Dates
Adults
2
Please, enter a destination
Dresden Harley Days
July 24 - 26, 2020
Rinne Dresden
In the summer high season, thousands of motorcyclists from all over Germany rush to the Saxon capital and make the earth tremble under their two-wheelers. For three days, Dresden becomes a Mecca for Harley-Davidson fans and welcomes guests to one of the biggest events in the biker world - Dresden Harley Days.
Still, in its infancy, Harley Days in Dresden attracted a great deal of attention. Following the tradition of biker meetings in such cities as Hamburg, St. Petersburg, and Opale, another similar event was held in Dresden for the first time in 2017. With the assistance of Harley Davidson community, organizers have managed to create an extraordinary event not only for die-hard two-wheelers but for the whole families as well.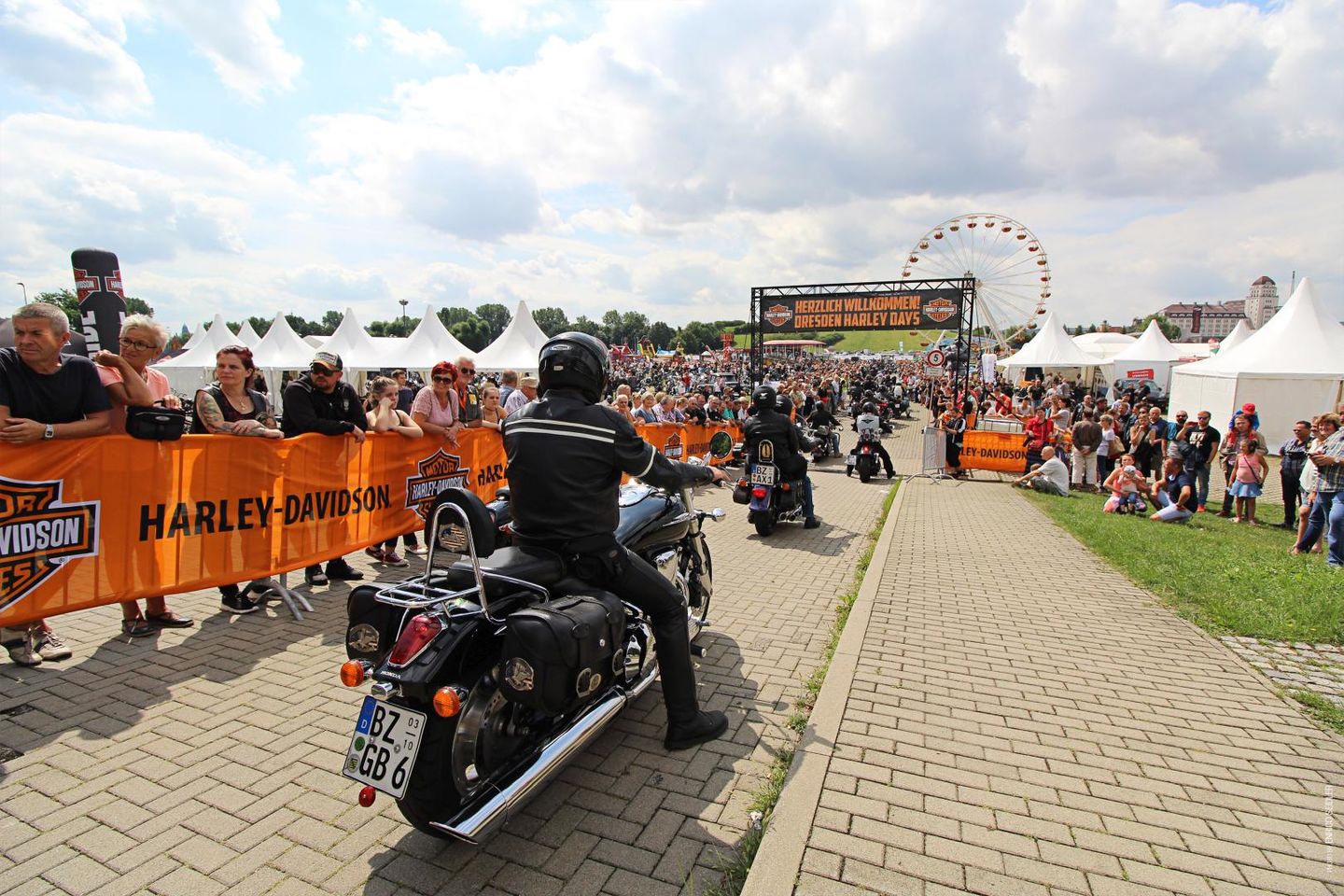 An excellent venue for motorcycle enthusiasts
If you want to go to the biker festival in Dresden with your own iron horse, you have to wait until summer, as the event is scheduled for July in the Ostragehege. During three days from Friday to Sunday, the Rinne Dresden is teeming with members and fans of the Harley Club, as well as various motorcycles of all sizes, colors, and shapes. Since the entrance for all guests, whether with or without a vehicle, is free, you can expect an incredibly large number of visitors here.
Entrance to the Rinne Dresden is free on all event days.
In 2019, around 15,000 visitors arrived at the festival ground over three days of the event. Dresden managers previously indicated this number as a goal. Harley didn't publicize the exact number of riders but hey say there were between 3,000 and 5,000 guests.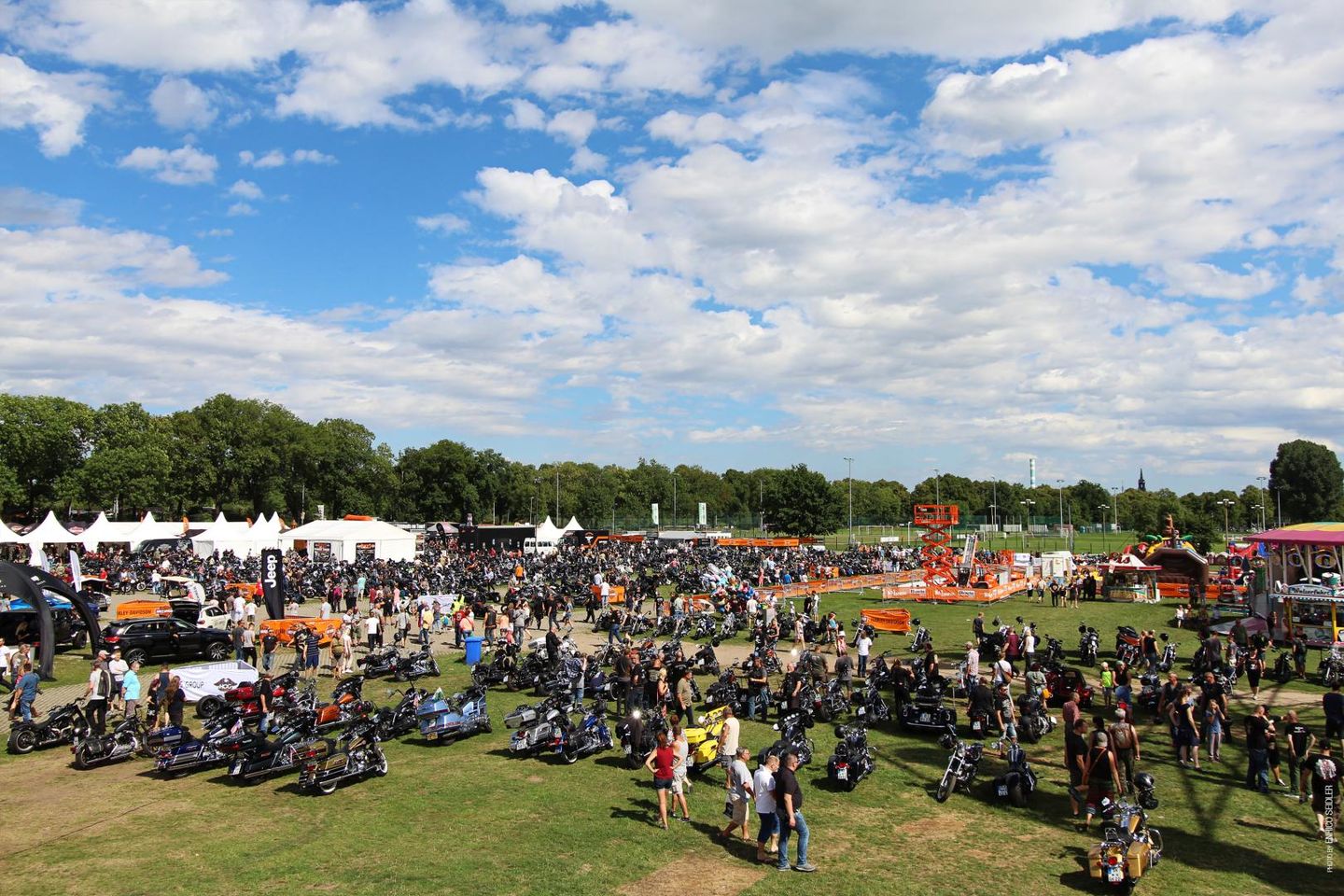 Highlights of Dresden Harley Days
Probably the most popular attraction of the three-day event is a huge exhibition of all kinds of motorcycles of Harley Davidson, one of the biggest American manufacturers. Painted, wrapped in foil and parked on the Rinne vintage and brand-new bikes fascinate both passionate fans of this brand and admirers of motorcycle culture in general.
Nevertheless, entertainment options are not limited to just strolling around and marveling at the Harley bikes, standing in the open air. Festival guests can also test their own driving skills and drive any motorcycle through the grounds for free to their heart's content. At customizer booths, you also have a wide range of special clothing and accessories that can be purchased at a favorable price.
The Harley fest in Dresden is a rare opportunity to show yourself as a proud and caring owner of the Harley Bike. You can take part in the contest and get the trophy and prize for the best bike of the DHD. All candidates will be judged according to one of four categories: "Best Harley", "Best Custom", "Best Old School" and "Best Lady".
If you want to support a charity organization, you can buy a lottery ticket and win a new Harley-Davidson motorcycle in the evening of the raffle.
At the festival, you can win not only the trophy for the best bike but also a new Harley Davidson chopper.
On the last day of the event, you can enjoy one of the greatest highlights of the motorcycle season - the Harley Days Parade. It draws the attention of all Dresden residents and guests of the city. Crowds of riders roll with deafening roar and rumble over an hour through the streets of Dresden and is truly a real magnet for the curious onlookers.
Entertainment for young and old
Numerous bands perform their best hits on the open-air stage, ensuring a festive and fun atmosphere of the event. It is remarkable that apart from hard rock, the traditional biker music, guests of the Dresden Harley Days can also enjoy Pop, Rock'n'Roll and Blues. Songs of Haudegen, Black Rosie, The Beefees and John Diva make the program of the event varied and exciting.
Popular bands of different genres play for two days on the open-air stage for the guests' entertainment.
Along with the test drive of the exclusive Harley-Davidson motorcycles, you can also experience the adrenaline kick on the burnout station and bull riding. What's more, there is an opportunity to prove your own strength and endurance by competing in an arm wrestling with other visitors. The entertainment program is rounded off by wrestling, strongman, motor cross, and mixed martial arts shows.
Families with children will not feel bored at the biker festival either. There are Ferris wheel and Kids Area at the festival site.
If you dream of a cool tattoo, you can take an opportunity and get one in the Tattoo area.
Guests of the Harley festival are welcomed in the tent village, where they can satisfy their hunger and thirst in the rich street food buffet.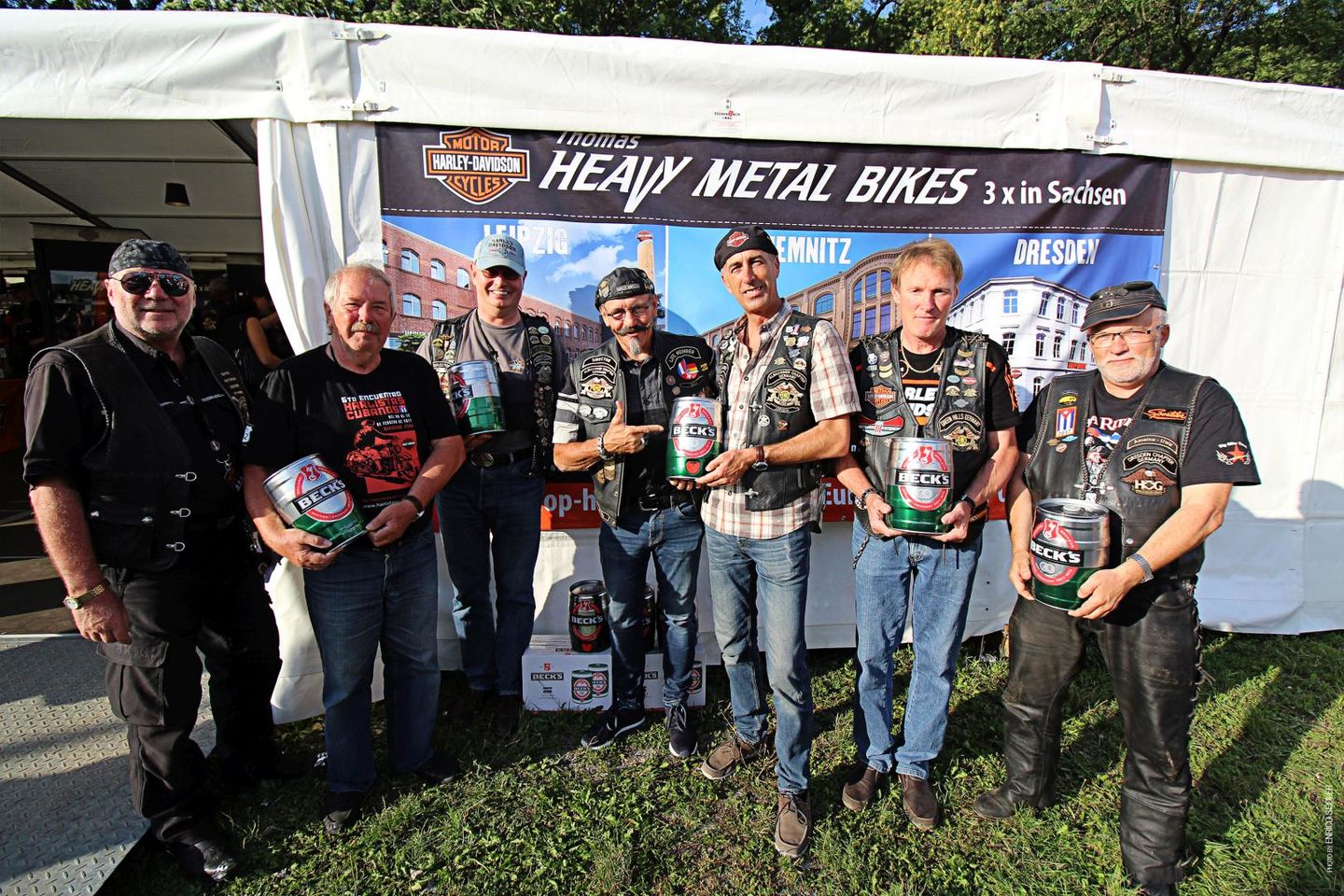 Program of the Dresden Harley Days 2020
July 24 - 26, 2020
Riders and visitors' info: arrival
Visitor Entrance
Thursday: 6am - 9pm
Friday: 8am - 12pm
Saturday: 8am - 12pm
Sunday: 8am - 4:00 pm
Thursday: closed
Friday: 2pm - 12pm
Saturday: 10am - 12pm
Sunday: 10am to 4pm
Program highlights
• During three days, you can enjoy live shows, moderation, and music. Stay tuned…
• Free Motorcycle Demo Tours
Test drives begin every hour and last about 45 minutes. If you want to take part in test-driving, you will need a motorcycle license and a helmet (you can also rent it on the spot). No pre-registration required. You can simply register for a demo ride at Thomas Heavy Metal Bikes booth at Harley Village.
Friday 2pm – 8pm
Saturday 10am – 8pm
Sunday 10am – 3pm
• Bike Show
Place your motorcycle in the exhibition area next to the stage starting from 2 pm. Place your motorcycle in the exhibition area next to the stage on Saturday from 14:00. From 4 pm to 5 pm, the jury will choose the coolest Harley here.
• Big biker parade in Dresden city on Sunday, July 26, 2020
• Adventure Park
The park is truly made for families and children: a trampoline, riding a bull, climbing castles, and more.
The way to the Harley Festival
If you are going to visit Harley Days 2020, it is advisable to get to know how to get there in advance. The grounds of the Rinne Dresden, where the festival takes place, are located a bit far from the city center but can be easily reached by public transport.
If you come to Dresden by train, you can take tram line 10 at the Main Railway station and get off at the "Messering, HALLE 1" station.
If you arrive by plane, you can get to the biker festival from the Dresden Airport with two suburban train lines, first taking the S-train number 2 to the "Bahnhof Mitte" stop, then changing to the train line 10 and heading to the "Messering, HALLE 1" stop.
If you come by car, you should just enter the address "01067 Dresden, Messering 6" on your GPS device and simply follow the directions.
The main venue, where Harley Davidson's fans gather in Dresden, is easily accessible by car or tram line 10.
Tickets
Weekend ticket
Weekend Ticket with a Bike
Valid for 1 person without a bike during the whole weekend of Harley Days Dresden 2020, including free use of the bathroom.
Price: EUR 15.00
Valid for 1 person with a bike during the whole weekend of Harley Days Dresden 2020, including free use of the bathroom.
Price: EUR 15.00
Camping Weekend Ticket
Caravan Weekend ticket
Valid for 1 person with or without a bike, including a tent (camping), free use of all sanitary facilities (shower/toilet) during the whole weekend of Harley Days Dresden 2020.
Price: EUR 30.00
Valid for 1 person with or without a bike, including a motorhome (or motor coach) or caravan, free use of all sanitary facilities (shower/toilet) during the whole weekend of Harley Days Dresden 2020.
Price: EUR 40.00
*Please note that you can buy tickets at the venue box office.
Free ticket for children under 12 years old.If you are a disabled visitor with an accompanying person, he or she is entitled to free admission on condition that you have purchased a ticket at the relevant admission price and have a B-type or H-type disability pass and/or depend on an accompanying person.
You can buy tickets online in the Harley-Davidson Online Shop Dresden, as well as through your local Harley dealer at Thomas Heavy Metal Bikes stores in Dresden, Leipzig or Chemnitz.
Accommodation
There is a campground on the territory, where Harley Days' visitors can set their tents or park their caravans. You can arrive at the event fairly comfortably with your own two-wheeler or a trailer, and then camp for three days in the Rinne at a reasonable price.
If you look for more comfort in your accommodation though, you can lodge in one of the hotels in Dresden. There you will find a variety of two- to five-star hotels as well as inns that offer their guests the overnight stay with all the amenities. You can stay in a single room, twin room, apartments, and suites.
If you know exactly when you are going to Dresden, HotelFriend advises you not to hesitate with the reservation. With the help of our mobile app, you can book a suitable room and selected services beforehand. You don't have to worry about the trip and can enjoy your visit to Dresden Harley Days in 2020.
Filters
Top facility
More
Top facility
More
Hotels in Dresden
(1181 results)