Dates
Adults
2
Please, enter a destination
Filters
Top facility
More
Top facility
More
Hotels in Hamburg
(929 results)
Hamburg Guide
Hamburg is the second-largest city in Germany situated in the north of the country at the Elbe. It is a city-state and officially the Free and Hanseatic City of Hamburg. The city's area is 755,26 km², and the population is about 1.751.700 people.
Hamburg is the largest seaport in Germany and one of the top-20 container ports in the world. Also, there is a shipyard where new ships are built, aircraft factories, and more.
Hamburg also includes the northern sea islands of Neuwerk, Scharhorn and Nigern, and the Hamburg Wadden Sea National Park, which was inscribed on the Wadden Sea World Heritage List in 2011.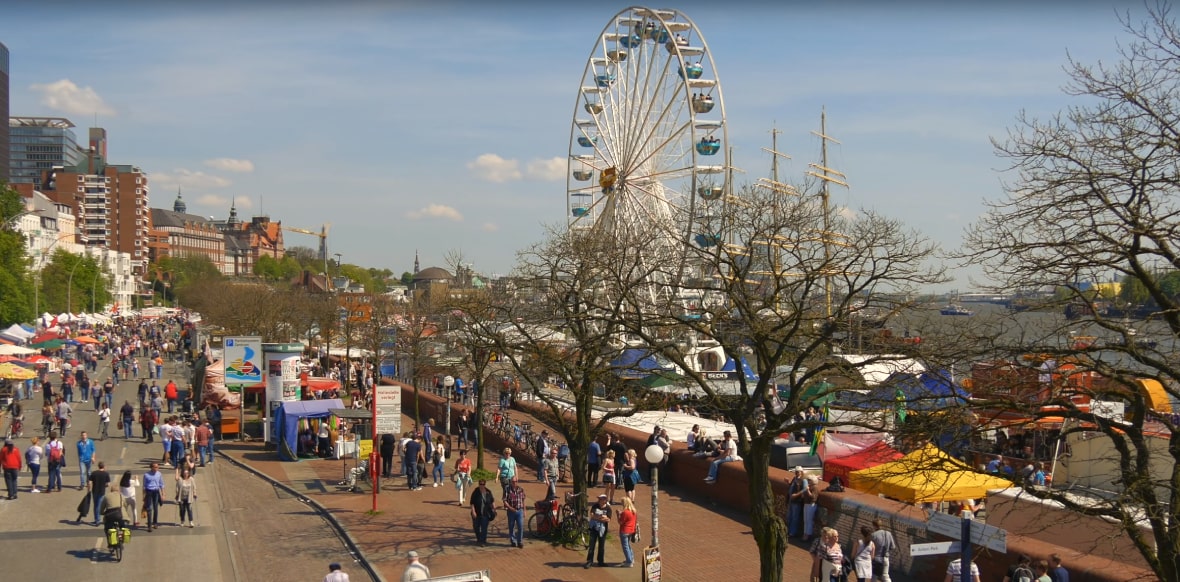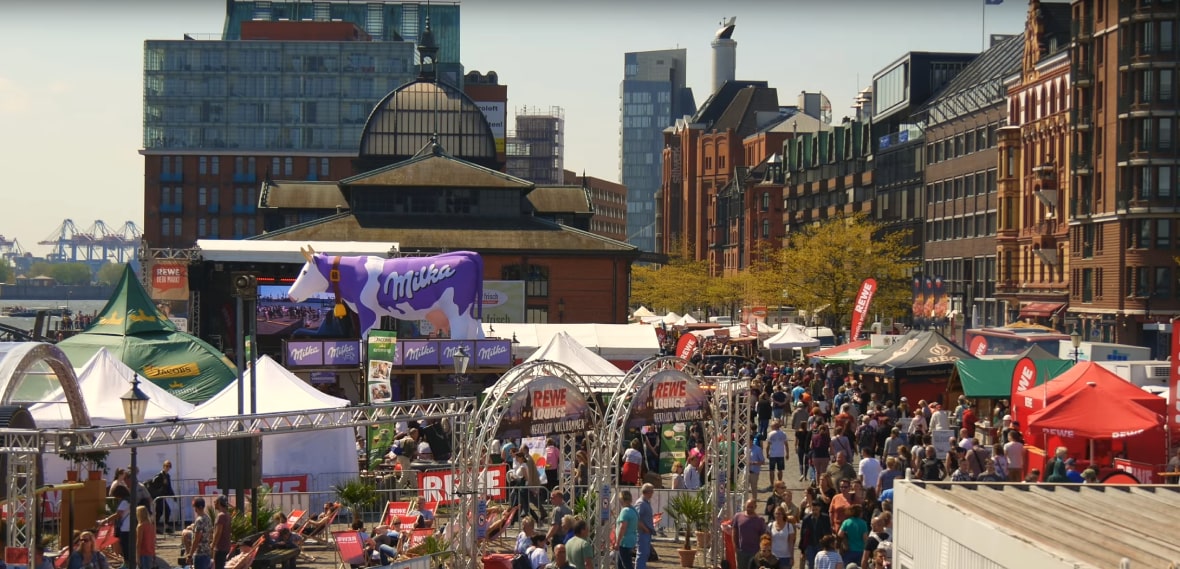 Climate and the Best Time to Travel
The climate in Hamburg is influenced by its proximity to the coast and maritime influences. Due to the prevailing westerly winds, it is not so cold in winter and a bit colder in summer than in other areas of the country.
The best time to travel is a matter of taste, it depends much upon what weather you like. Please note the following:
• May, June, November, and December are typical rainy months.
• July and August are usually the warmest months.
• July, August, and September are the best months to swim.
• The end of August and the beginning of September are not so warm, yet leaves on trees are still green. So you can ride a bike or visit an outdoor swimming pool. There is always something happening in the city.
How to Get to Hamburg?
By plane
The Hamburg-Fuhlsbüttel Airport is the fifth biggest airport in Germany. It offers not only regular flights to German cities but also numerous connections within Europe. There are even intercontinental flights. By suburban train, line 1, you will get to the city center right from the airport. It lasts about 25 minutes and costs only 3,30 €.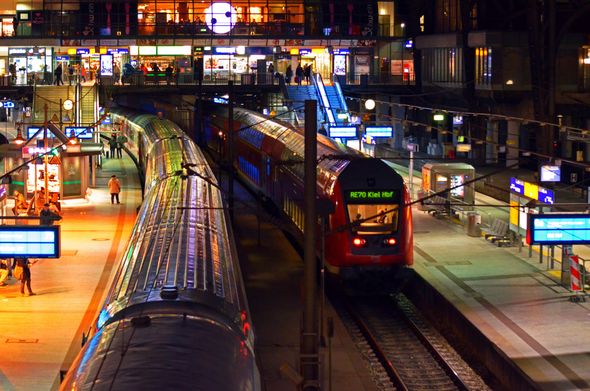 By train
There are 5 big railroad stations for intercity trains in Hamburg:
1. Central Train Station
2. Altona
3. Dammtor
4. Harburg
5. Bergedorf
By bus
Buses that go to other cities (regional, national, and European destinations) arrive at the Hamburg Central Bus Station locating close to the Central Train Station (2 minutes on foot).
By car
There are several highways running through Hamburg, namely A1, A7, A24, and A23.
In Hamburg, there are many P + R parking lots (Park + Ride) outside of the city center. Here you can park free and use public transport to get to the city quickly.
Parking lots in the center are quite rare. That's why they are mostly unavailable and chargeable.
City map of Hamburg
Attractions and holidays
Hamburg has an exciting mix of experiences to offer, starting from wild nightlife to monuments that recall the rich history of the city. Having more bridges than Venice, it is a city that distinguishes itself as a place located close to the water - from the busy Fischmarkt on a Sunday morning to the picturesque Strandperle. Meanwhile, the Hamburger Kunsthalle and the new proud Elbphilharmonie promise to organize arts, musical, and architectural events on the knock-out places on the water.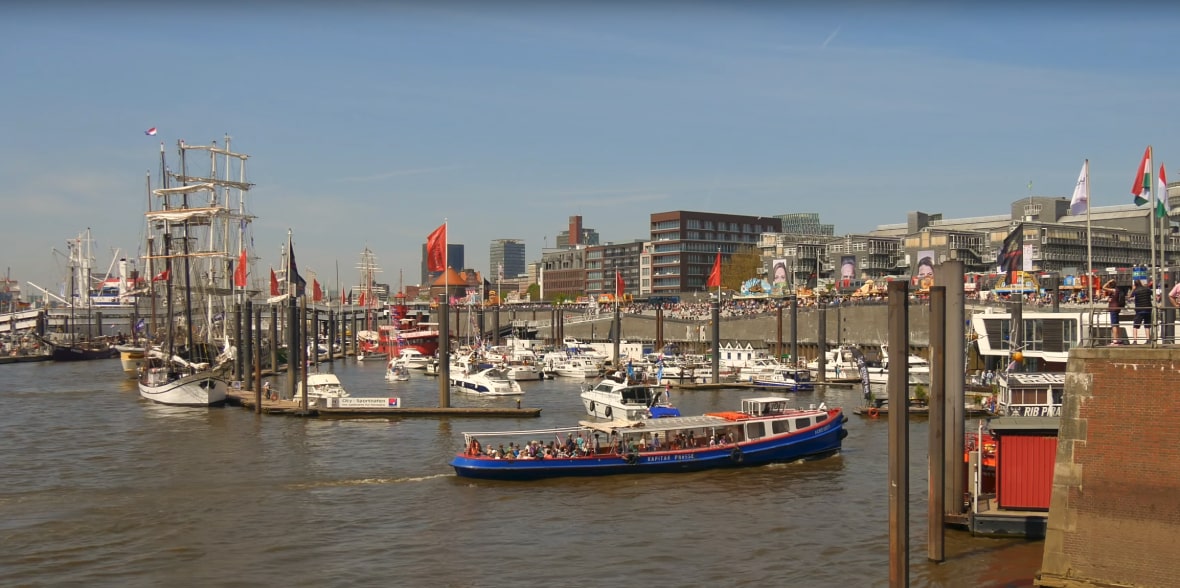 Fischmarkt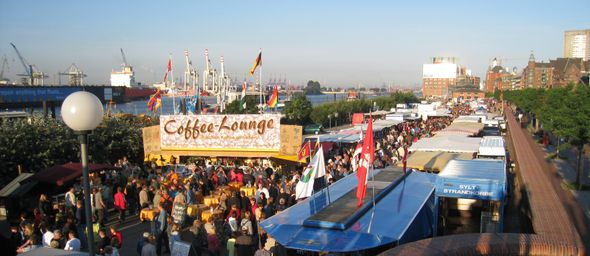 A visit to the Fischmarkt is an unforgettable experience. The Fischmarkt Hamburg attracts thousands of people from all over the world to the Elbe every Sunday morning. To get there, you should wake up early - but it is worth it! With its long tradition (since 1703), maritime charm, and bold shouts of sellers touting their wares, the Altonaer Fischmarkt transforms weekly shopping into an unforgettable experience for young and old.
Address: Große Elbstraße 9.
Opening hours: summertime (1 April to 31 October): every Sunday from 05:00 until 09:30 o'clock;
Wintertime (1 November to 31 March): every Sunday from 07:00 until 09:30 o'clock.
Parking: at the Edgar-Engelhard-Kai and Van-der-Smissen-Straße.
St. Nikolai Memorial
The memorial of St. Nikolai is the central memorial to the victims of World War II and the former tyranny in Hamburg. The St. Nicholas Church was completely destroyed during the air attacks on Hamburg in 1943.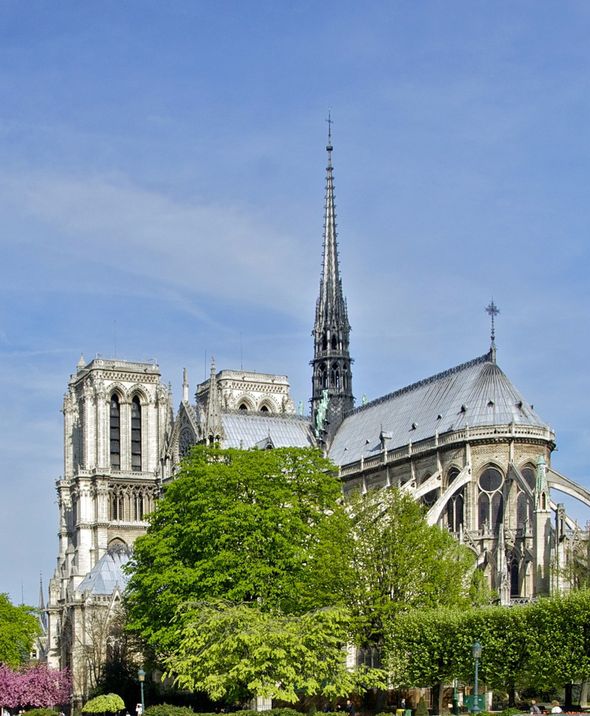 The St. Nicholas Museum offers three exhibitions, dedicated to the events of World War II: the Coventry Blitz (1940), the destruction of Warsaw (1939-1945), the bombing of Hamburg (1943).
There is also an observation tower with a panoramic lift. An impressive view of the city opens at a height of 76 meters.
Address: Willy-Brandt-Straße 60.
Opening hours: May - Sept. every day from 10:00 until 18:00 o'clock. Oct. - April every day from 10:00 until 17:00 o'clock
Ticket prices:
| | |
| --- | --- |
| Adults | 5 € |
| Children | 3 € |
| Reduced price | 4 € |
Miniatur Wunderland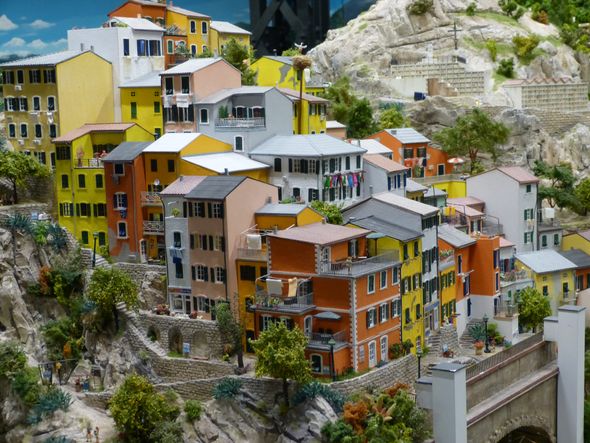 This is one of the most popular sightseeings throughout Germany, and there is a reason for it. Miniatur Wunderland is the biggest railway system model in the world. Here you can see miniatures of many countries.
Address: Kehrwieder 2-4 / Block D.
Opening hours: every day from 09:30 until 18:00 o'clock (on the weekend, on holidays, every Tuesday and every Friday - even longer).
Photo by: petuniad. Miniatur Wunderland - Italien.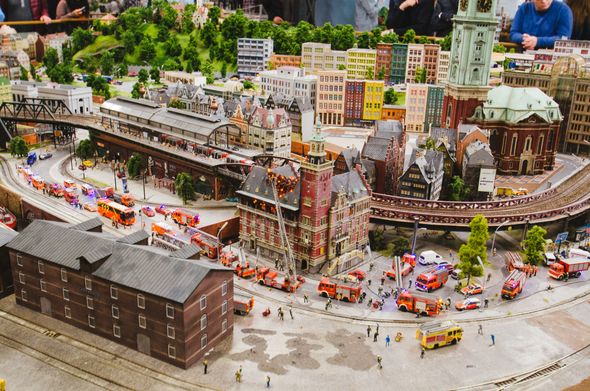 Ticket prices:
| | |
| --- | --- |
| Adults | 15,00 € |
| Children (up to 15 years) | 7,50 € |
| Students | 11,00 € |
| Seniors (over 65 years) | 13,00 € |
| Disabled people* | 10,00 € |
*Tickets for wheelchair users cost 5.
Hamburger Kunsthalle
The Kunsthalle is one of the biggest museums in Germany. Here you will find breathtaking collections of drawings from the Renaissance up to the present time. Great works of Tiepolo, Canaletto, Rembrandt, Pieter de Hooch, Caspar David Friedrich, Éduouard Manet, and other famous painters will definitely enchant you, and you will come back there again!
Address: Glockengießerwall 5.
Opening hours: Tue. - Sun. - 10:00 - 18:00 o'clock. Thurs. - 10:00 - 21:00 o'clock. Thurs. on or before the holidays from 10:00 until 18:00 o'clock. Mon. - closed.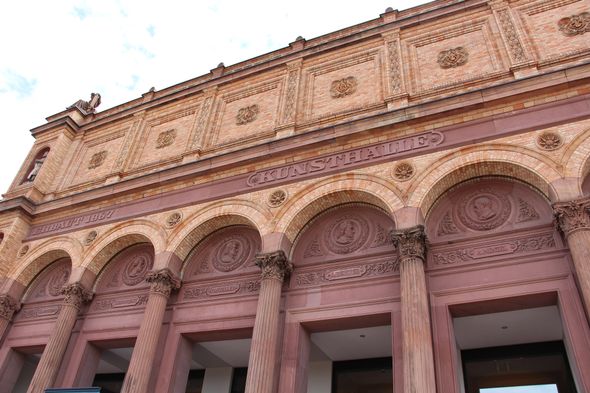 Ticket prices:
| | |
| --- | --- |
| Adults | 14 € |
| Children and youth (up to 17 years) | free |
| Reduced price* | 8 € |
| Groups (per person) | 12 € |
* for students, welfare recipients, seriously disabled people.
Dungeon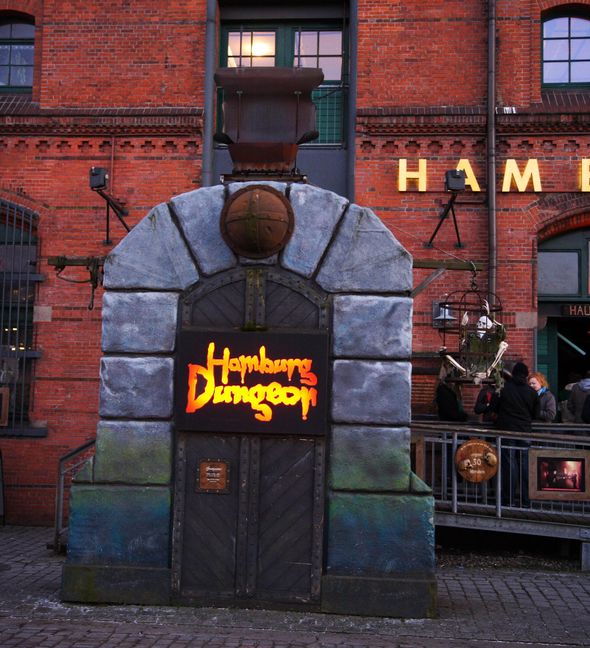 In the Hamburg Dungeon, you can see and experience the most horrifying days and events of the Hamburg history. 13 live shows with professional actors will make you want to laugh and cry at the same time. Here you can become a part of a pirate crew to save Klaus Störtebeker from the execution, flee from the Great fire in 1842, visit the Plague Hospital, explore various instruments of torture and do many other things.
Address: Kehrwieder 2. Opening hours: every day from 10:00 until 17:00 o'clock.
The prices usually lie between 13 and 25 €, depending on the day and program.
Buying tickets on the official website, you can save up to 25%!
Planetarium in Hamburg
Enjoy the starry sky together with your family! A fantastic show won't let you be bored. Moreover, you get the possibility to hear interesting facts about the universe.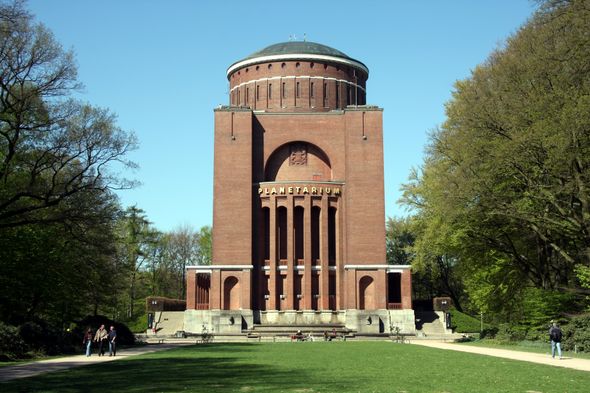 Opening hours:
| | |
| --- | --- |
| Monday | closed |
| Tuesday | 09.00 o'clock - 17.00 o'clock |
| Wednesday-Thursday | 09.00 o'clock - 21.00 o'clock |
| Friday | 09.00 o'clock - 22.00 o'clock |
| Saturday | 12.00 o'clock - 22.00 o'clock |
| Sundays and holidays | 110.00 o'clock - 20.00 o'clock |
Be sure to come to the Planetarium 20 minutes before the event is due to start. Once the performance has begun latecomers will not be admitted for security reasons. Tickets will not be exchanged or refunded.
Address: Linnering 1 (city park), 22299 Hamburg, Germany.
Ticket prices:
The prices of the Planetarium Hamburg vary depending on the type of the event in the Sternensaal (Astral Theatre).
Category
Price
Note
Adults
11,00 EUR
Concessions plus children and
young people up to and including
7,00 EUR
17 years of age
5,00 EUR
(For school or nursery groups of 12 or more children, two accompanying teachers will be admitted free of charge)
Supplement for presentations in 3D, glasses
1,50 EUR
incl. hire of 3D
Concessions
The following are entitled to reduced ticket prices: severely disabled persons with a 50%-degree of disability, school children, apprentices, students, participants in the Federal Volunteer Service (BFD), Voluntary Year of Social Service, Voluntary Ecological Year or Voluntary Military Service, plus the unemployed and recipients of benefits in accordance with Books II and XII of the Social Code (unemployment benefit II, income support, social security/welfare). Please present the relevant identification cards at the entrance. Holders of the Hamburg Card are entitled to a reduction of €1.5.
Musical capital
Not just a port! Hamburg is many-sided and can show not only beautiful view cityscapes but also hilarious musicals. Everyone will find here something to his taste. One of the most popular and successful musicals of all time in Hamburg is Disney's THE LION KING, which has been attracting young and old in the fascinating world of Africa for more than 15 years. Right next door to the Stage Theater an der Elbe MARY POPPINS tells its merry and warm-hearted story about the Banks family. Several corners further, Disney's ALADDIN enchants the audience with its oriental magic and fascinating jinn moments. Many smaller productions - such as the iconic Hamburg musical "Heiße Ecke" ("Hot corner") or "CAVEMAN Hamburg" from the theater Schmidt's Tivoli - as well as countless guest performances complete the scene.
"The Lion King" is said to be the most interesting musical.
Address: Stage Theater im Hafen. Norderelbstraße 6, 20457 Hamburg.
The prices for "The Lion King" lie between 69,90 EUR and 199.90 EUR depending on the day and row. The performances take place from Tuesday to Sunday.
Opening hours: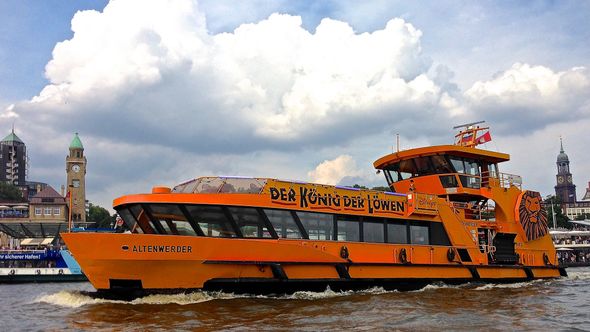 | | |
| --- | --- |
| Monday | no performance |
| Tuesday | 18.30 o'clock |
| Wednesday | 18.30 o'clock |
| Thursday | 20.00 o'clock |
| Friday | 20.00 o'clock |
| Saturday | 15:00 & 20:00 o'clock |
| Sonday | 14:00 & 18:30 o'clock |
Events
Hamburger DOM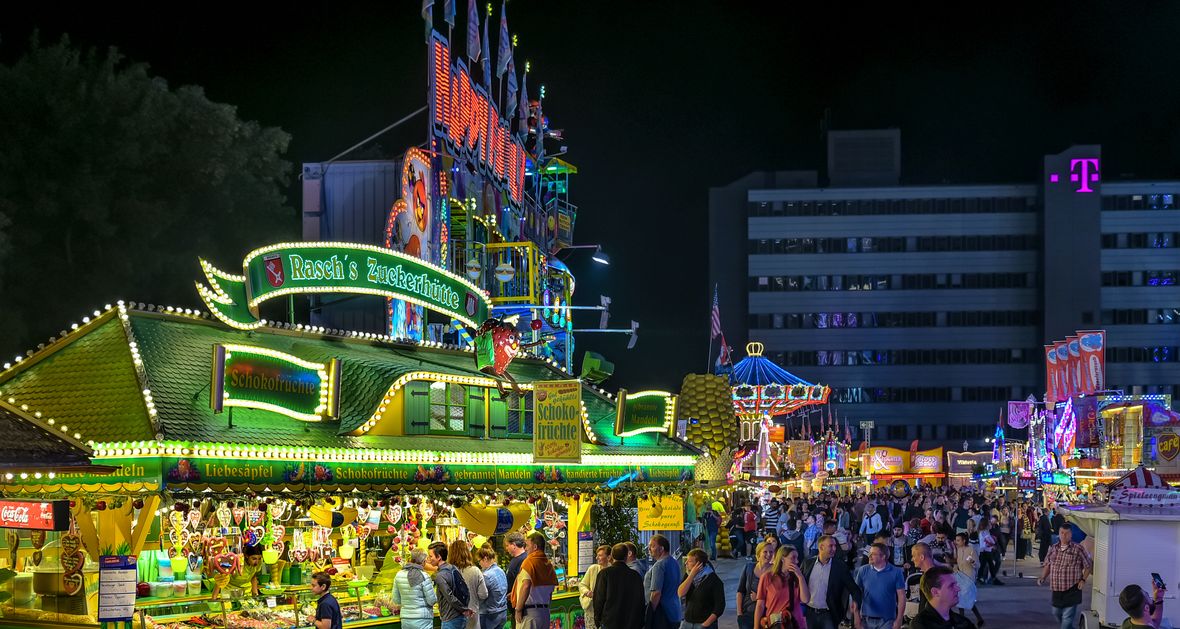 The Hamburg DOM is the largest carnival in Northern Germany.
This great event is very popular among foreign tourists and known as the brightest fair in Germany. It is organized three times a year - in summer, in winter, and in spring. During this festive period, you will see multifarious carnival rides, carousels, beer tents, and souvenir shops on the streets. Every day, there are interesting events, concerts, and shows, as well as special festivals and events for kids.
Photo by Jorge Franganillo
Port Anniversary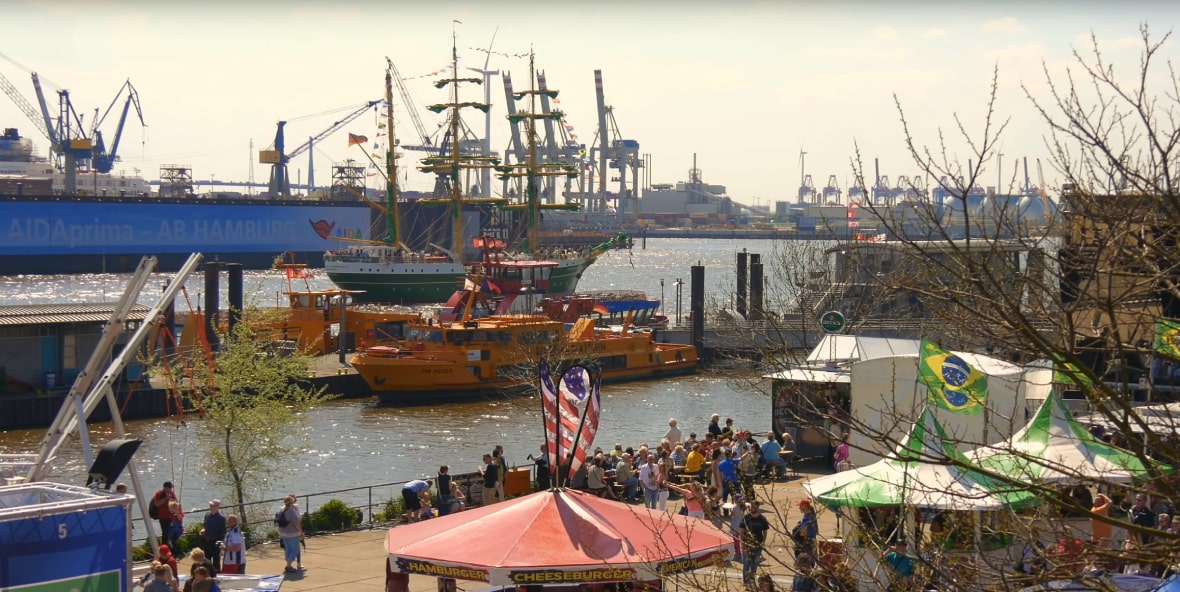 The biggest world's port event is here! Its actual birthday is on May 7, 1189. On this day, Hamburg received an exemption from duty for shipping on the Elbe to the North Sea. Hamburg became the biggest port of the world therewith.
Do not miss an opportunity to visit the most beautiful fair of Hamburg.
MS Dockville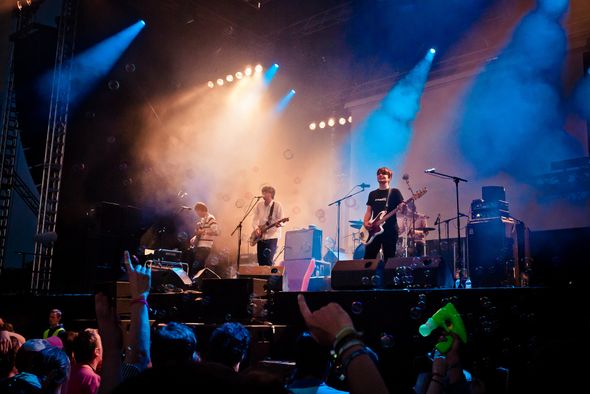 One of the biggest festivals in Germany which is definitely worth your attention!
The MS Dockville is an indie and rock festival, taking place in Hamburg in Northern Germany.
Energetic indie sounds with the melodic variation of the electronic spectrum of the Wilhelmsburg's industrial desert have a new life at the festival. Every year on some weekend in August, the docks transform into the paradise of alternative music. The port's environment creates contrasting scenery for the best festival vibes.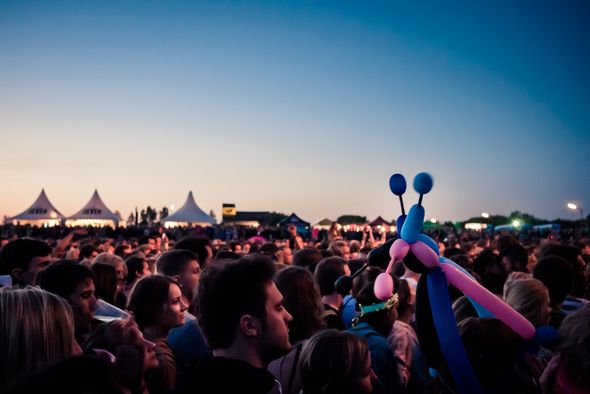 The price for a 3-day ticket is 99 EUR. This ticket offers you access to all days of the festival (Friday - Sunday) and includes using the shuttle service to the festival's area.
It is possible to book camping.
Photo by Daspunkt
What to eat?
Treat yourself with culinary dainties! In Hamburg, there are many restaurants, which impress their visitors with elegance. Seafood is especially popular here.
We have prepared for you a list of establishments where you can taste the best dishes of the traditional cuisine.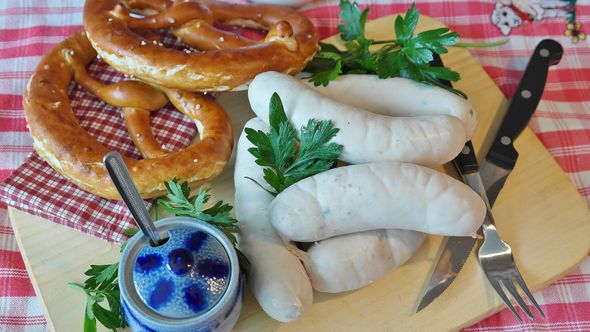 • Philipps Restaurant
Address: Turnerstr. 9, 20357, Hamburg, Germany
Contacts: +49 40 63735108
• Opitz
Address: Mundsburger Damm 17, 22087, Hamburg, Germany
Contacts: +49 40 2290222
• Das Dorf
Address: Lange Reihe 39, 20099, Hamburg, Germany
Contacts: +49 40 245614
However, there's no need to visit restaurants to feel the true atmosphere of Hamburg. At the port, you can buy yummy Fischbrötchen (fish sandwiches) with Kräutermatjes (pickled herring with greens), Bismarckhering (pickled herring) or North Sea shrimps. Moreover, we can recommend you some dishes, such as Hamburger Aalsuppe (Hamburg eel soup), Curry- and Weißwürste, Franzbrötchen. These dainties are sold everywhere in Hamburg: at the market, on the landing stages, and at every tent. The prices are quite low.
The best hotels in Hamburg
Hamburg CARD
Experience more sides of Hamburg & save your money! Go by bus, train, and ferry (HVV - Hamburg Transport Association) free and get a reduced to more than 150 attractions! With the discovery ticket, you can explore Hamburg comfortably, flexibly, and cheaply at any time. Just get on and go from 10,50€! What will you get?
• Free travel by bus, train, and ferry (HVV).
• Harbour tours, Alster trips, and city tours: up to 30% discount.
• Attractions and museums: up to 50% discount.
• Musicals and theater: up to 28% discount*.
• Restaurants and souvenirs: up to 25% discount**.
*Remaining tickets for regular events at the box office.
**20% on food upon presentation of the card before ordering.
The discounts are granted directly by the provider on site.
You can select between single and group tickets.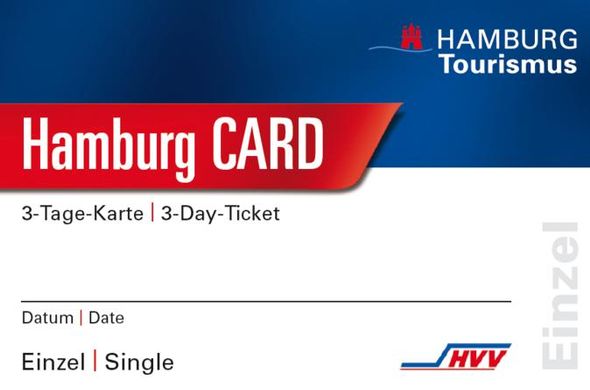 Prices for Hamburg Card single ticket (for 1 person and 3 children (6 up to 14 years of age)):
| | |
| --- | --- |
| Day ticket | 10,50 EUR |
| 2-day ticket | 19,40 EUR |
| 3-day ticket | 27,50 EUR |
| 4-day ticket | 35,90 EUR |
| 5-day ticket | 43,40 EUR |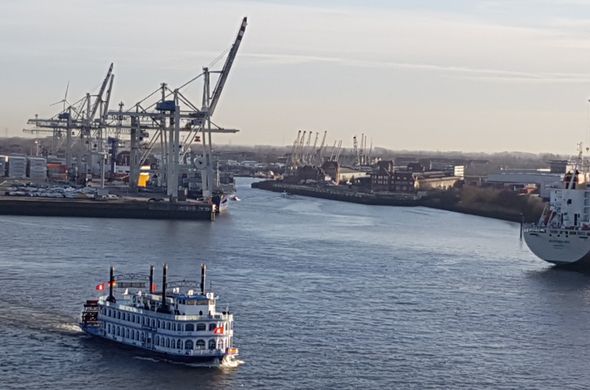 Prices for Hamburg Card group ticket (for up to five people of all ages):
| | |
| --- | --- |
| Day ticket | 18,50 EUR |
| 2-day ticket | 33,10 EUR |
| 3-day ticket | 46,90 EUR |
| 4-day ticket | 61,50 EUR |
| 5-day ticket | 76,50 EUR |
Points of sale:
• Tourist Information (Central train station, Dammtor railway station, harbor, airport).
• HVV ticket machines, service centers, and buses.
• Many hotels, guesthouses, hostels, and campings.
Cards are valid right from the airport.
Accommodation
Hamburg is becoming increasingly popular with tourists. If you want to visit Hamburg, how much does a hotel in Hamburg cost?
• The price per night for a hotel room in Hamburg starts at 49 EUR.
• The average price per night in a 3-star hotel will cost 106,46 EUR.
• The average room rate of a luxury hotel is 128,86 EUR.
There is a huge variety of hotels in Hamburg. According to Hamburg Tourismus, there are about 31,770 hotel rooms in the Hanseatic city now.
With HotelFriend, you can easily book a hotel room according to your needs and at the best prices - whether a musical hotel, family hotel or directly on the Reeperbahn. Our HotelFriend team always aims to bring you the best offers and deals!