Dates
Adults
2
Please, enter a destination
Filters
Top facility
More
Top facility
More
Hotels in Munich
(791 results)
Munich Travel Guide for your unforgettable vacation
The capital city of Bavaria is one of the most popular travel destinations in whole Europe and we are going to show you why! Munich has so much more, than just Octoberfest, to offer: incredibly rich history and therefore - culture (museums, churches, castles, galleries), many urban sports possibilities, delicious cuisine, endless festivals and concerts, proximity to wonderful Alpes and other natural beauties. Visiting this city - is a 100% guarantee of an eventful and first-rate holiday.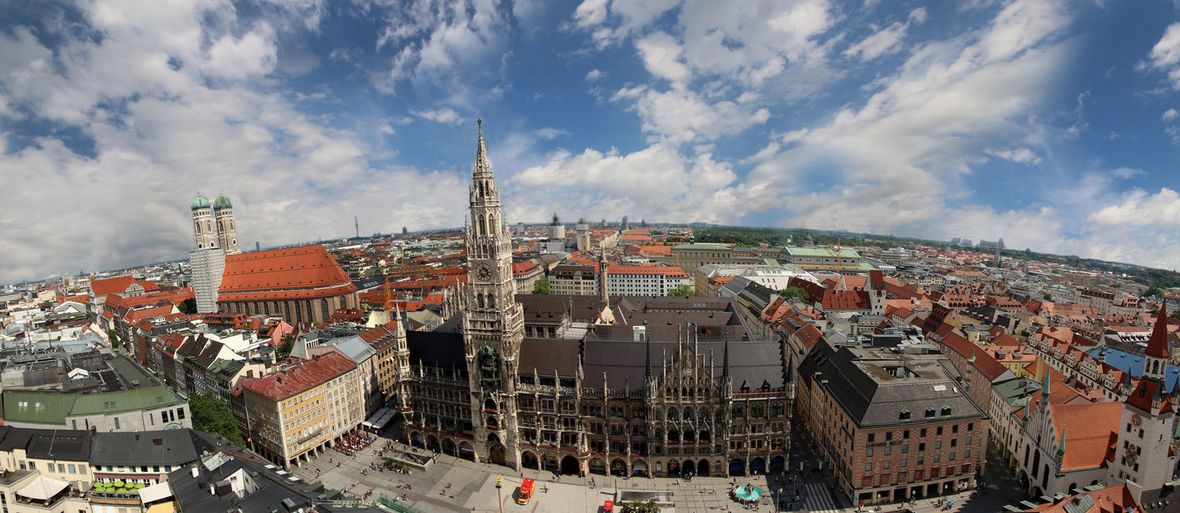 Photo by PRODaniela Hartmann
Climate
☂ Almost every season is suitable for a trip to Munich. However, in summer temperatures can differ quite strongly - from about 12 to 30° C (it also can be a bit rainy in July and August). So be careful, while planning your visit during this time period. Better check your favourite weather forecast a few days before going on vacation.
❅ In winter the weather doesn't change so drastically - temperatures stay within the limits of 0° C to a maximum of -10° C. Winter sport fans can doubtlessly enjoy alpine snow-covered landscapes and try out various seasonal activities.
☀ From March to May and from October to the beginning of November, there is often a very friendly weather in and around Munich.
Attractions - the most Interesting sights
Culture
Museums
1. An ensemble of three museums, where you can learn more about history of European art, starting from the Middle Ages and up to the present time
Alte Pinakothek (The Old Picture Gallery)
Genius masterpieces by Raphael, Rubens, Albrecht Dürer, Rembrandt, Leonardo Da Vinci, François Boucher, and many more are presented here to impress you with their unique beauty.
How much does it cost?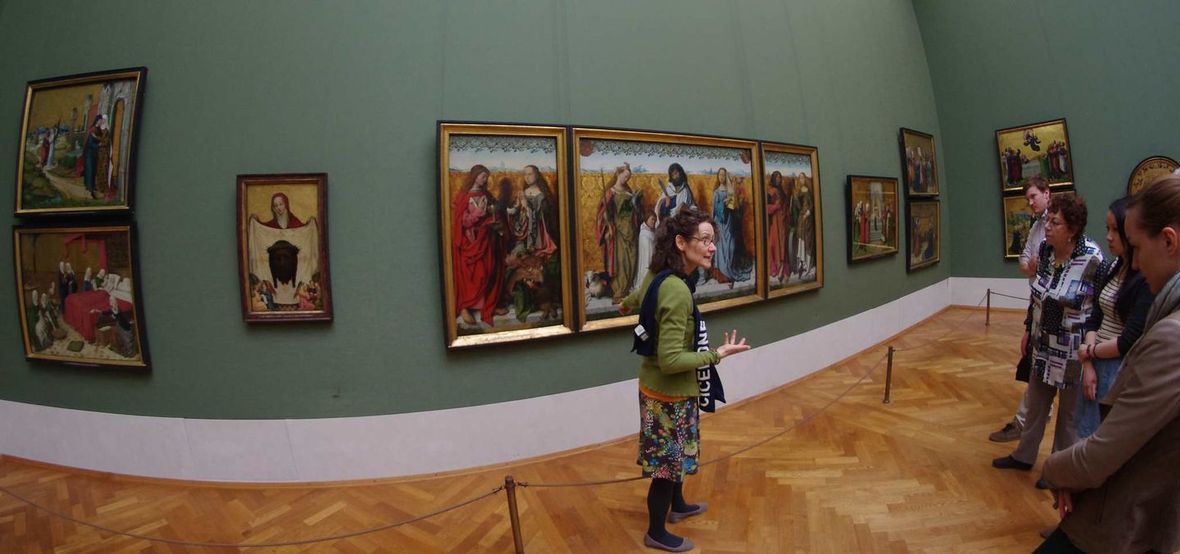 | | |
| --- | --- |
| For adults | 14 € |
| For children (6-17 years old) | 4,50 € |
| For seniors and disabled persons | 8 € |
| Family ticket | 29 € |
Photo by Mike Steele
Closing days 2020
01. 01. 2020 New Year
25. 02. 2020 Mardi Gras
10. 04. 2020 Good Friday
01. 05. 2020 May Day
27. 05. 2020 Staff meeting, open from 12.30 pm
01. 11. 2020 All Saints Day
11. 11. 2020 Staff meeting, open from 12.30 pm
24. 12. 2020 Christmas Eve
25. 12. 2020 Christmas
31. 12. 2020 New Year's Eve
* for seniors over 65 years, students and students of the Goethe-Institut, disabled persons, members of German Art Historian Association, military service volunteers.
Neue Pinakothek (The New Picture Gallery)
Here you will find amazing artworks from the late 18th to the beginning of the 20th century.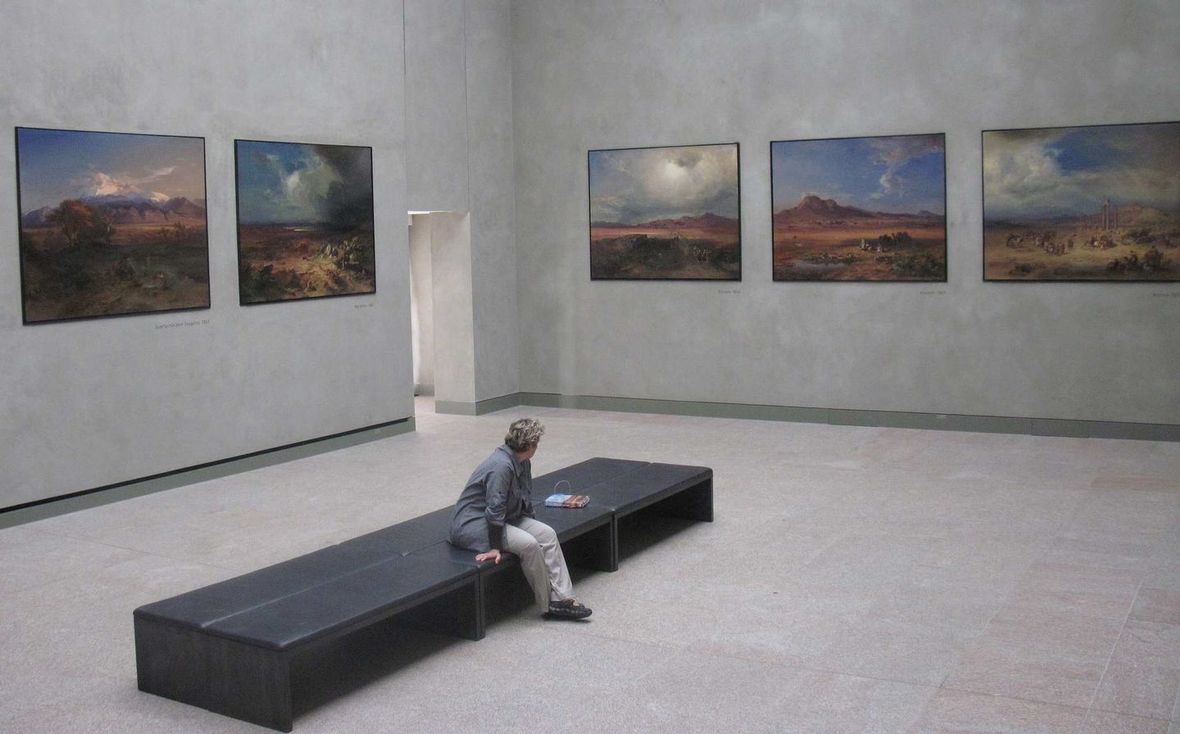 The main features of the gallery are paintings and sculptures of: Vincent van Gogh, Édouard Manet, Gustav Klimt, Claude Monet, Bertel Thorvaldsen, Edgar Degas.
How much does it cost?
Photo by felibrilu
Pinakothek de Moderne
This is the largest modern-art museum in Germany, that has 4 highly interesting collections under its roof:
1. State Graphic Collection with more than 400,000 prints, drawings and works on paper.
2. State Museum for Applied Arts
3. Museum of Architecture of the Technical University of Munich
4. State Gallery of Modern Art
Exemplary by such legendary artists like Salvador Dalí, Wassily Kandinsky, Pablo Picasso, Andy Warhol, Francis Bacon are going to blow your mind completely! If you are a design enthusiast or just a fan of modern culture - this place is absolutely unmissable!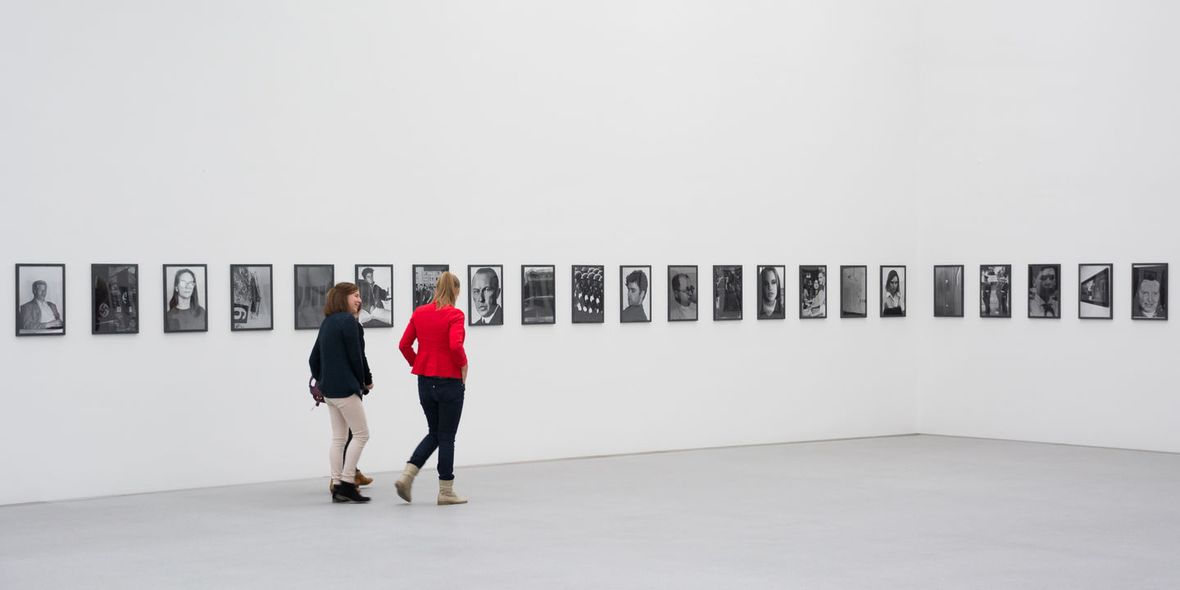 How much does it cost?
Photo by Christian Mönnig
Free entrance in all three museums is possible for: children under 18 years old, students specializing in art, art history, art education, architecture, design and graphic arts, registered escorts of severely handicapped visitors, journalists with current press card, members of the International Council of Museums (ICOM) - for other details visit the official website of Pinakothek.
When are the Pinakotheken open?
Everyday 10:00 - 18:00
On Mondays (Alte und Moderne) closed
On Tuesday (Neue) closed
Every Sunday the entrance costs - 1€
The museums are often being rebuilt, so you can visit the official website of Pinakotheken to make sure, that the specific one you want to visit is opened.
2. Deutsches Museum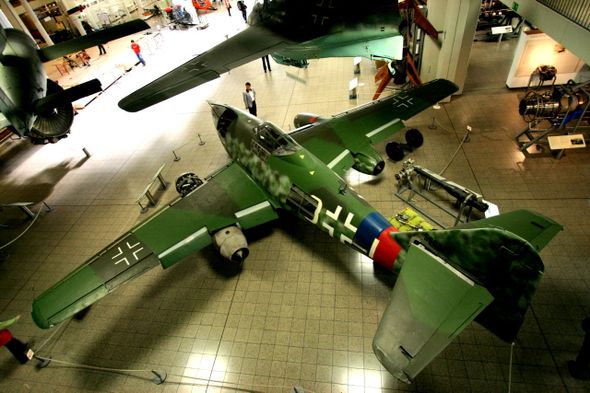 This museum is the largest science and technology museum in the world. You can't even imagine how huge it is - there is no way you can look through all exhibitions in one or even two days here. 46,000 square meters and more than 40 different departments with 28,000 exhibited objects. Radio technology, astronomy, physics, electric power, computers, photography, glass blowing, aviation, oceanography, musical instruments, marine navigation, science shows and SO much more is presented here for you to explore.
Photo by X. Tan
The Deutsches Museum is open daily from 9.00 to 17.00
How much does it cost?
You can download the Deutsches Museum app for your comfort and use it as a free museum guide.
| | |
| --- | --- |
| For adults | 12€ |
| For children (6 to 17 y.o.) | 4€ |
| For seniors and disabled persons | 7€ |
| Family ticket | 25€ |
Closing days 2020
01. 01. 2020 New Year
25. 02. 2020 Mardi Gras
10. 04. 2020 Good Friday
01. 05. 2020 May Day
27. 05. 2020 Staff meeting, open from 12.30 pm
01. 11. 2020 All Saints Day
11. 11. 2020 Staff meeting, open from 12.30 pm
24. 12. 2020 Christmas Eve
25. 12. 2020 Christmas
31. 12. 2020 New Year's Eve
3. BMW Welt and the BMW Museum
All the brands and products of the BMW Group (BMW, MINI, Rolls-Royce Motor Cars and BMW Motorcycles) are presented here as an impressive experience. The showpieces can be easily interactive explored, that means - you can see, feel, hear, smell, and taste everything around you (related to the exhibitions, of course :)).
Admission to BMW Welt is free.
Tickets to BMW Museum - 10€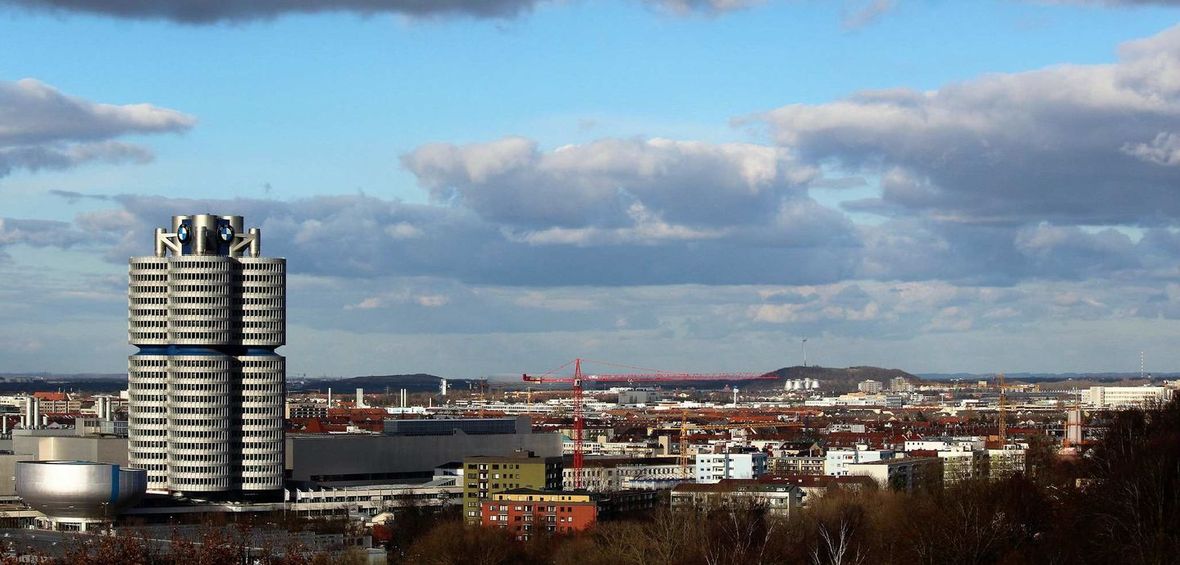 | | |
| --- | --- |
| Adults | 10€ |
| Reduced admission* | 7€ |
*for children up to 18 years, students up to 27 years, senior citizens, disabled persons.
Photo by Sumit dugar
When is the BMW Welt open?
Mon. - Sat. 07:30 - 00:00
Sun.09:00 - 00:00
When is the BMW Museum open?
Tues. - Sun. 10:00 - 18:00
Mon. closed
4. The Residenz Museum
The Residenz Museum is considered one of the best palace museums in Europe. One of the most beautiful highlights of the place is - Antiquarium, where antique busts, statues and a lot of painted views of Bavaria's most picturesque towns and castles are to be found.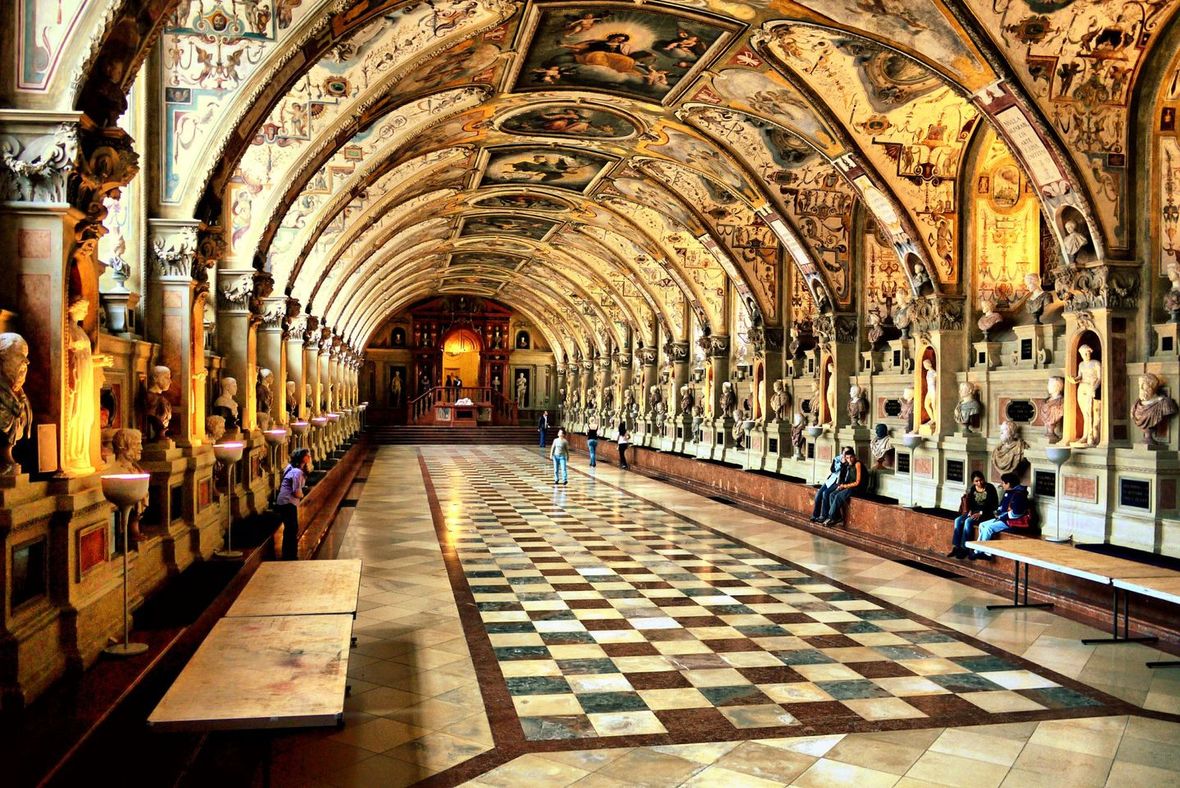 Free audio-guides are available.
How much does it cost?
Also the Gallery of Ancestors, the Porcelain Room and the Grotto Court are worth seeing.
Regular admission fee - 7€
Children under the age of 18 and students over 18 (from general schools, vocational schools, special schools and schools for sick children) can visit the museum for free.
Photo by Adam Smok
When is the Residenz Museum open?
The Munich Residence is open daily; Public holidays: all buildings are closed on 1 January, Shrove Tuesday and 24, 25 and 31 December.
Residence Museum and Treasury
April-18 October: daily 9 am-6 pm
9 October-March: daily 10 am-5 pm
Cuvilliés Theater
| | |
| --- | --- |
| April-26 July | Mondays to Saturdays: 2 pm-6 pm and Sundays: 9 am-6 pm |
| 27 July-7 September | daily 9 am-6 pm |
| 8 September-18 October | Mondays to Saturdays: 2 pm-6 pm and Sundays: 9 am-6 pm |
| 19 October-March | Mondays to Saturdays: 2 pm-5 pm and Sundays: 10 am-5 pm |
Fountain machinery in the Court Garden
The fountain machinery can be viewed every day.
It is in operation from April to October daily from 10 am to 2 pm.
Castles
1. Linderhof Palace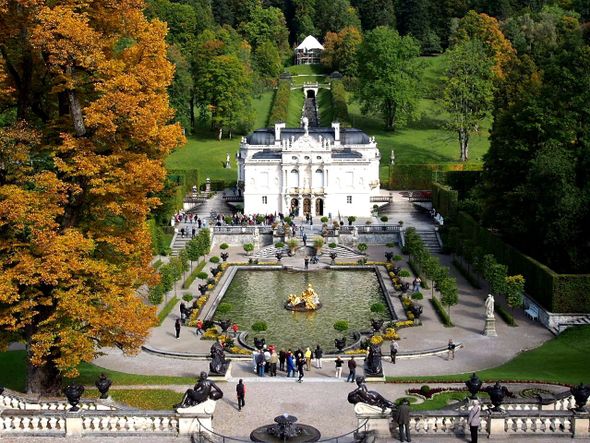 The Palace is located not actually IN Munich, it will take you one hour to get there from the city - but it's totally worth it! The Linderhof Palace is the only King Ludwig's fantasy castle, that was fully completed during his lifetime. The magnificent decor of the building is a mixture of French and Bavarian Rococo. Even for a monarch, the exquisite rooms are furnished in a too spectacular way, the artisan quality can not be compared to anything you've ever seen.
Photo by Kaoru
No less impressive than the castle itself is the park around it. Landscaped terraces with water basins, fountains, statues, vases, geometric flower beds, two viewpoints Pavilion, Venustempel and much more awaits you here. Do not hesitate - just come here to experience the real fairy tale!
How much does it cost?
Regular admission fee - 8,50 €
Children under the age of 18 and students over 18 (from general schools, vocational schools, special schools and schools for sick children) can visit the museum for free.
When is the Linderhof Palace open?
April - 15 October 09:00 - 18:00
16 October - March 10:00 - 16:30
On 1. January, 24, 25 and 31. December all sights in Linderhof are closed.
The park can not be entered in Winter.
2. Nymphenburg Palace
The extensive Baroque assemble in the west of Munich was built as the summer residence of Bavarian Electors. With its artful interior decoration and the much-admired Gallery of Beauties, that was gathered by Ludwig I of Bavaria - the castle has become one of Munich's most popular sights. In the palace there is a room, which still contains the sleigh bed on which Ludwig II was born. There are stunning frescoes painted on ceilings all over the castle. Also the world's largest collection of porcelain is presented here.
Entrance fees 2020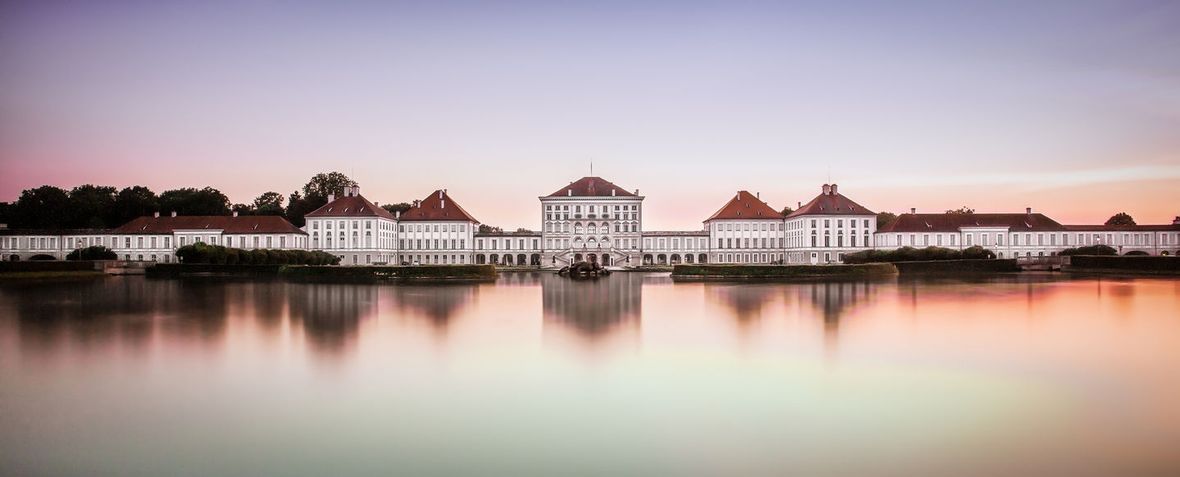 Combination ticket "Nymphenburg"
| | |
| --- | --- |
| 1 April-15 October | 15 euros regular · 13 euros reduced |
| 16 October-31 March | 12 euros regular · 10 euros reduced |
Photo by Frank Friedrichs
Free and reduced entrance
Children under 18, as well as students over 18 from general schools, vocational schools, special schools, and schools for sick children, are admitted free of charge.
When is the Nymphenburg Palace open?
April - 15 October 09:00 - 18:00
16 October - March 10:00 - 16:00
Park palaces are closed in winter.
Annual passes and/or multi-day tickets from the Bavarian Palace Department allow you a cheap entry into over than forty most beautiful sights in Bavaria. The tickets cost 45 € for individuals and 65 € for families.
Neuschwanstein Castle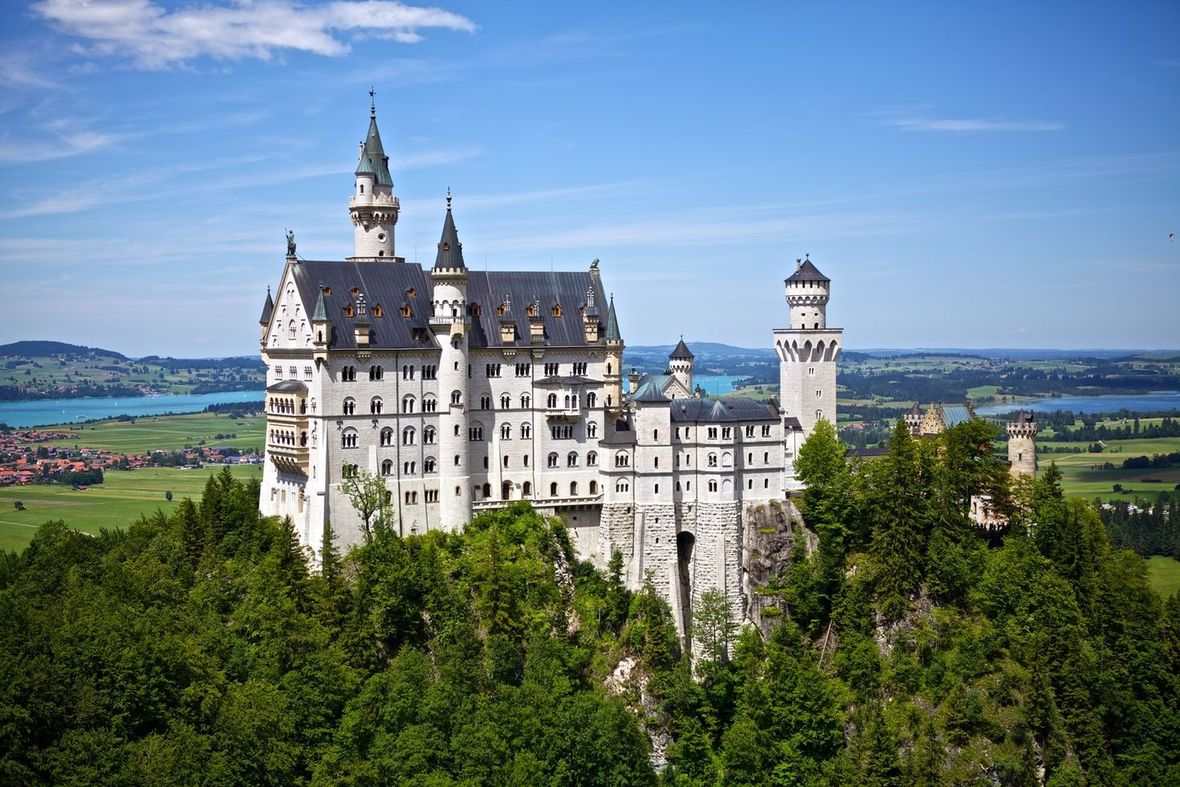 You've never seen it? Impossible! Do you remember the Disney logo? - that's right :) This castle has inspired your favourite magical stories and movies from your childhood. Built in the 19th century for the mysterious 'Mad King', Ludwig II of Bavaria, the Neuschwanstein Castle was supposed to be his dream palace, where he could escape to and live a more private life (but, unfortunately, he never saw it completed). Rooms Inspired by Wagner's operas, a mural of St George slaying the dragon in the Throne Room, the dining room, which was equipped with an electric bell system (far ahead of its time), the 'first-generation' telephone, magnificent ceiling paintings and so much more will impress you in the Neuschwanstein Castle.
Tips
💡The Neuschwanstein Castle interior can only be visited with a guided tour. To save time you can buy your Neuschwanstein tickets online until 2 days before your visit.
💡Wear comfortable shoes, because you will have to walk quite a while.
💡Check official website of the castle right before your trip, because certain roads may be closed at times.
💡Try to visit the castle during weekdays or the off-season (because on some days there are up to 6000 visitors in the castle and that will certainly spoil the majority of impressions of the trip).
How much does it cost?
Regular admission fee - 13 €
Children under the age of 18 and students over 18 (from general schools, vocational schools, special schools and schools for sick children) can visit the museum for free.
When is the Neuschwanstein Castle open?
April - 15 October 09:00 - 18:00
16 October - March 10:00 - 16:00
City tour deals in Munich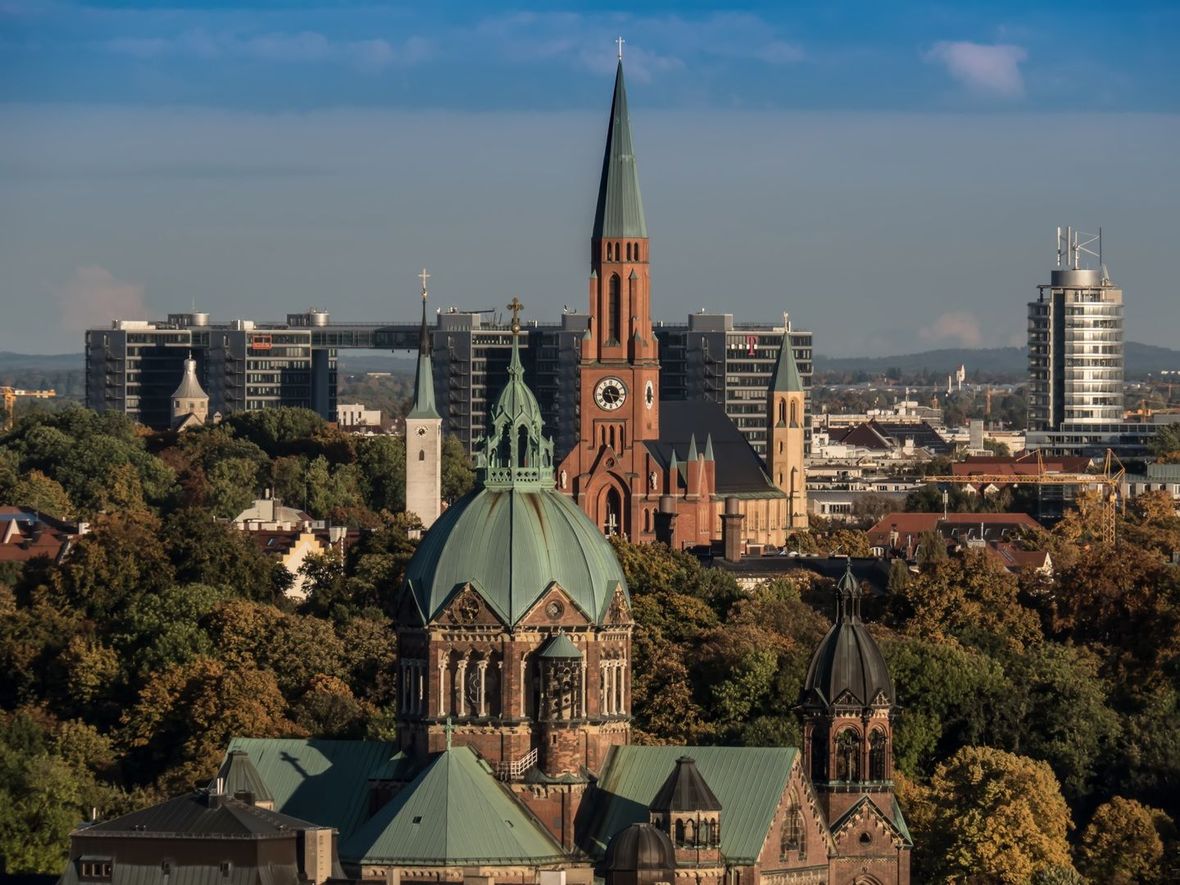 Churches
Munich is the city of history and gorgeous architecture. We made a top-list of most beautiful churches, that are totally worth your visit:
1. Asam Church
2. Munich Frauenkirche
3. St. Peter's Church
4. St. Paul's Church
5. Theatine Church
Other must-see sights
1. Marienplatz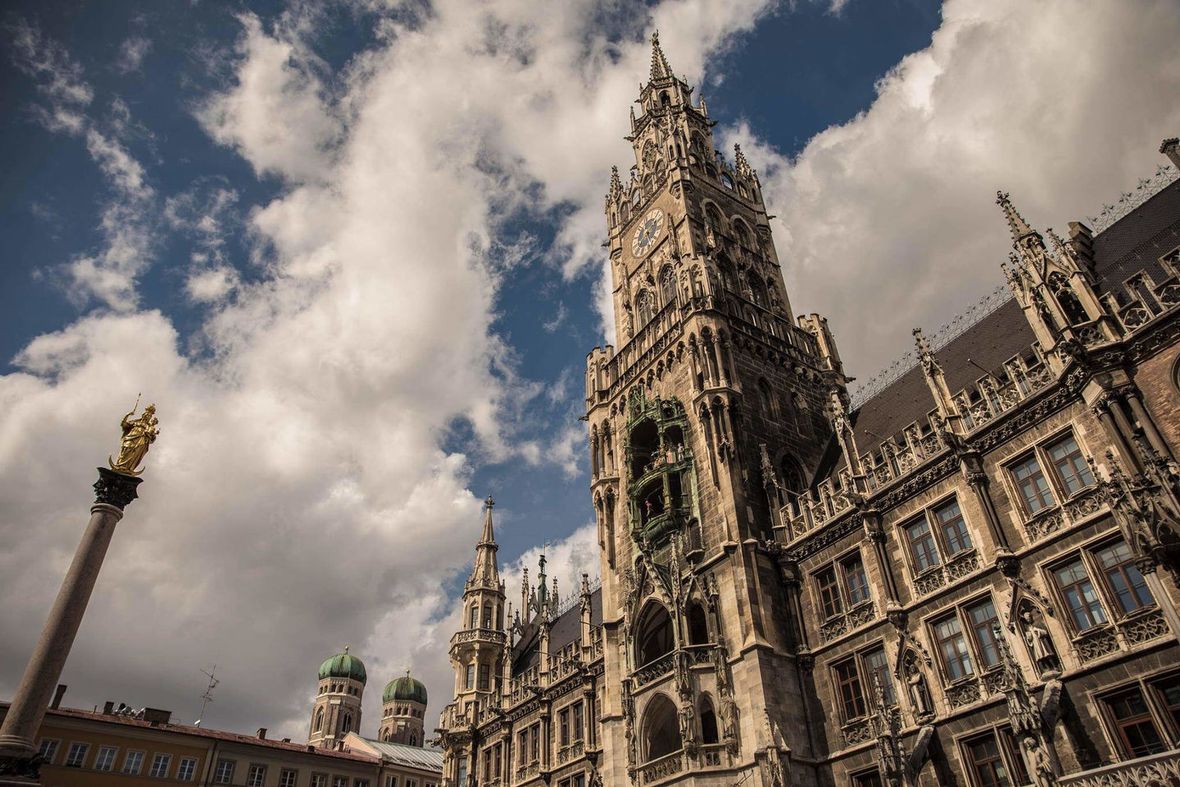 Marienplatz is the heart of Munich and at the same time the best starting point for your sightseeing tour! The very first attraction that will fall into your eyes on this square is - the mighty and great New Town Hall (Neues Rathaus), that is highly popular not only for its impressive exterior, but also for the 100-year old carillon (Glockenspiel).
Munich's Old Town Hall (Altes Rathaus), is the first city hall building, that was assembled in the 14th century and is also to find on the square.
Photo by Axel Hohaus
We recommend you to just stroll through this place and enjoy the magical atmosphere of Munich.
2. Biergarten
If you came to Munich and still weren't in a beer garden - then know - you have committed a crime! The tradition of beer gardens began in Bavaria and there is no other place on Earth, where you can feel the real joy behind that. There are about 200 of these gardens in the city and the best ones are presented in our list: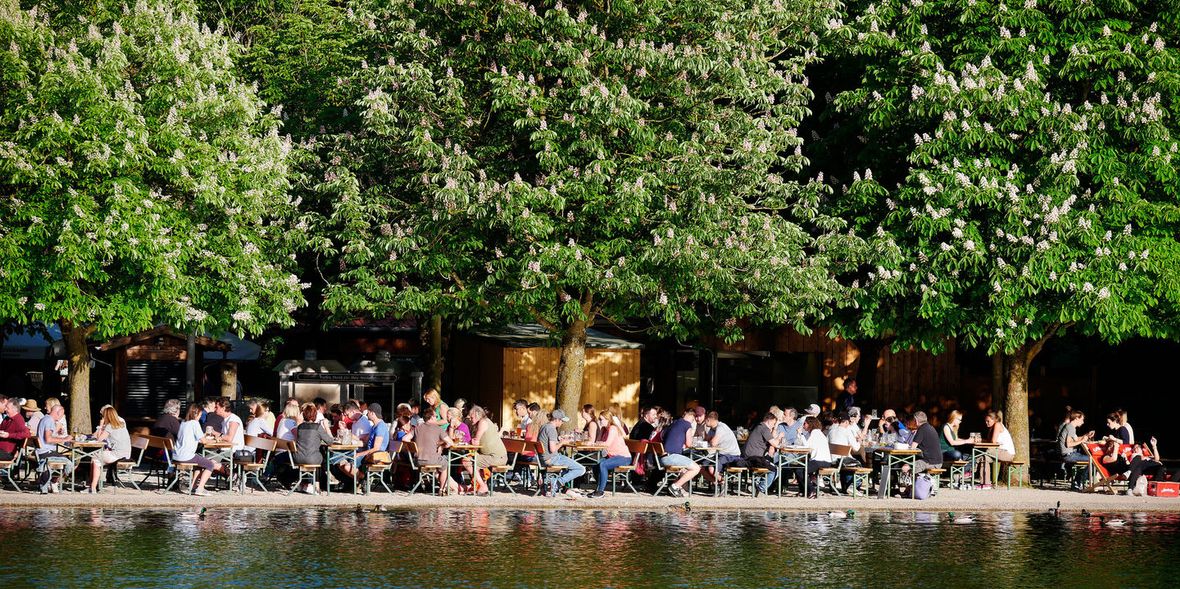 1. Augustiner-Keller
2. Hirschgarten
3. Chinesischer Turm
4. Hofbräukeller
5. Night beer garden Backstage
Photo by Joerg Lutz
3. Hofbräu Haus
The most famous beer hall in the world is right here in Munich at your disposal.
Traditional bavarian music, home-brewed beer, delicious dishes - and this is only a small fraction of what expects you here
4. English Garden
3,7 square kilometers of numerous streams, lakes, beer gardens and meadows make the English Garden the most popular place to chill and relax in Munich.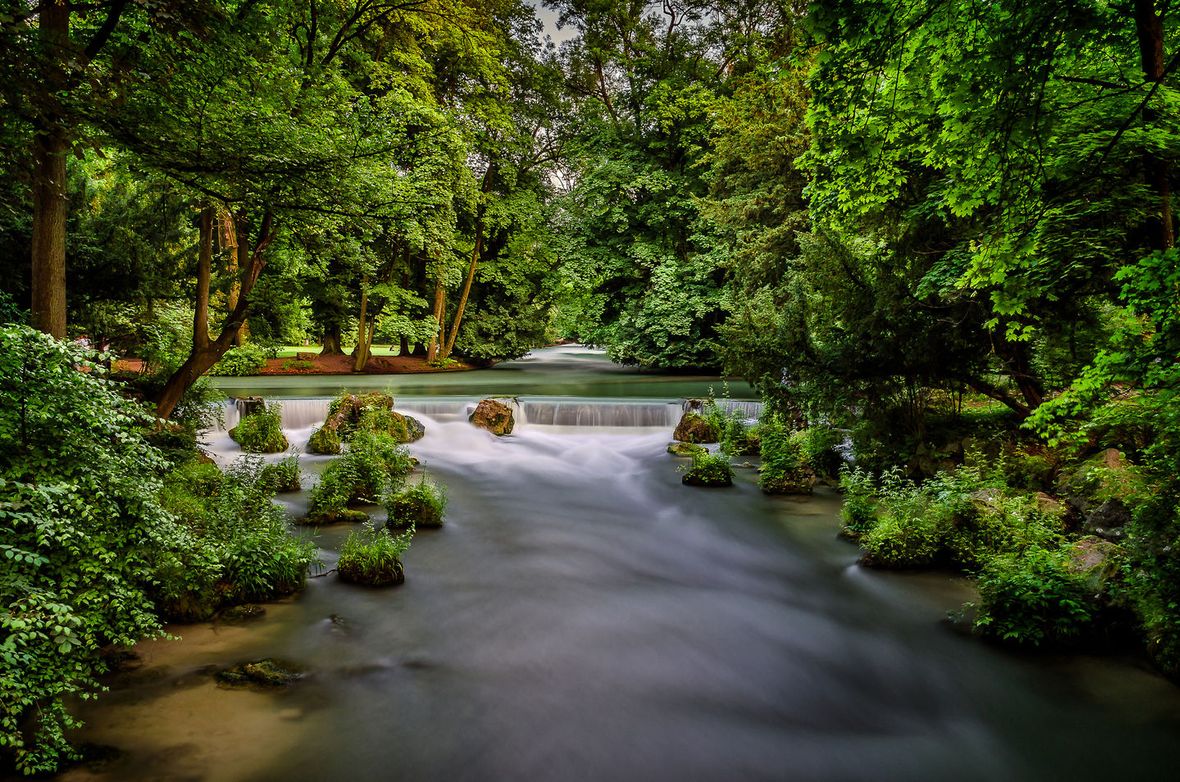 Here you can also do different urban sports like: volleyball, frisbee, football, slacklining, surfing, jogging, cycling, inline-skating, ice-skating and tobogganing!
Sights in English Garden:
- Chinesische Turm
- Rumfordschlössl
- Monopteros
- Japanese tea house
Photo by Kapil Juvale
Hellabrunn Zoo
The zoo was opened in 1911 and since that time it hasn't lost its popularity amongst tourists and locals. It is a home to more than 19,000 animals from around 750 species.

The Zoo offers several shows and rides for you to enjoy:
- Elephant show
- Seal show
- Hawks show
- Camel ride
- Horse ride
How much does it cost?
| | |
| --- | --- |
| For adults | 15 € |
| For children (4-14 years) | 6 € |
| Reduced* | 11 € |
*students, seniors, disabled adults (up to 90 % disability).
Disabled children and disabled adults (more than 90 % disability) can visit the Hellabrunn Zoo for free.
When is the Hellabrunn Zoo open?
October 28, 2019 to March 31, 2020: 9 am to 5 pm
from April 1st, 2020: 9 am-6 pm
Deсember 24 and 31, 2020: 9 am to 4 pm
Shopping
Both sale-hunters and luxury brands fans will be satisfied in Munich. Huge variety of malls, shops, markets is presented in the city. We are going to give you some advices for you to have the best shopping ever!
➤ The main shopping areas are - Kaufingerstrasse and Neuhauserstrasse near the Marienplatz and Maximilianstrasse. Here are presented global chains as well as more exclusive boutiques.
➤ Don't miss the Viktualienmarkt - this is one of the main attractions of Munich. Living and bustling food market from which you can bring the most colorful souvenirs of Germany. But remember - to leave this market without purchases is impossible, but with no money - very easy! So, take a certain amount of money that you are willing to spend with you and not a coin more :).
➤ Opening hours of larger stores and supermarkets:
Mon - Fr 09:00 - 20:00
Sa 09:00 - 16:00
On Sundays all stores are closed.
Events and recreation possibilities
1. Oktoberfest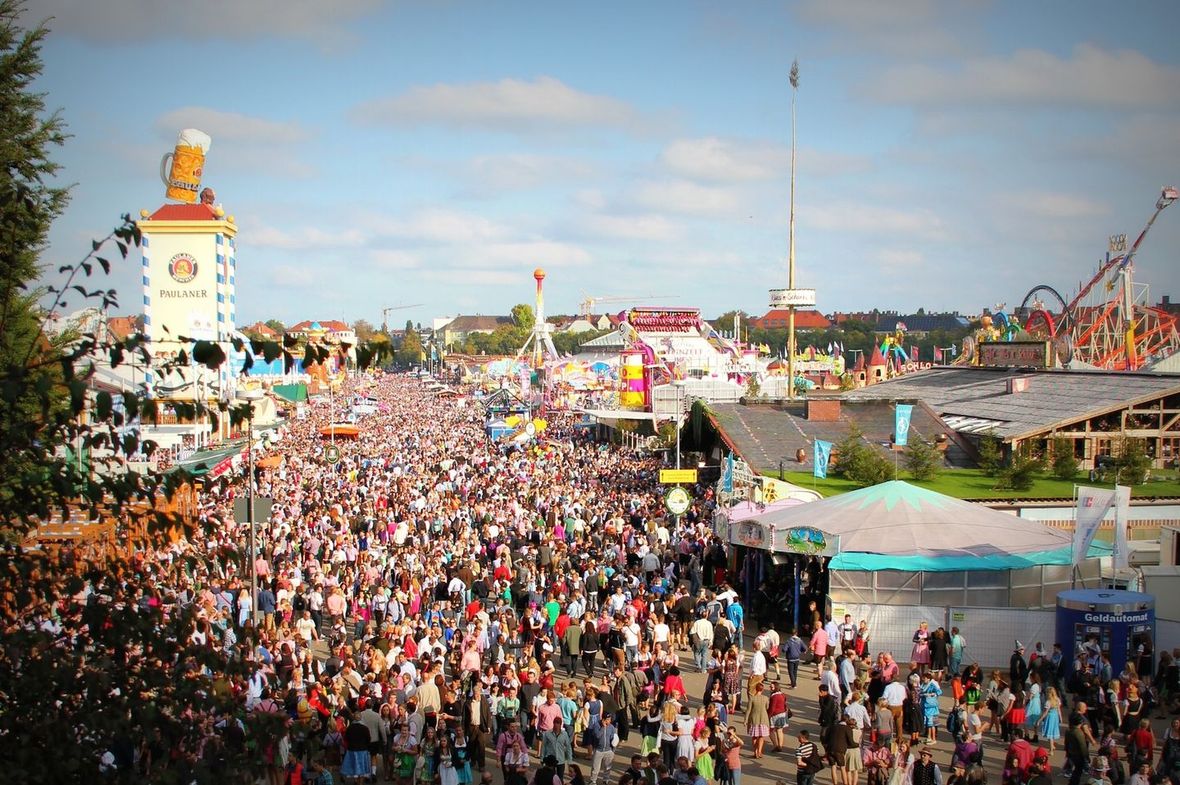 The Oktoberfest 2020 will not take place due to the coronavirus pandemic. It will be held again in 2021.
The world's largest folk… or to be more exact - drinking festival is held annually here in Munich. A colorful parade, beer tents, people dressed in traditional Lederhosen and Dirndl, best beer from Munich breweries, giant-sized pretzels with other bavarian delicacies, spectacular rides, candyfloss stalls, live bands, the Puppet Theater - not enough? Than go and check it yourself, and we PROMISE, that you'll find something suitable to your taste!
When is Oktoberfest held?
It usually runs for 16 days with the last day being the first Sunday in October. This year it starts on 22. September and ends on 7. October.
How much does it cost?
Admission is free! Though, it is advisable to make reservations and book tables in advance. And please consider, that you have to take cash money with you, because cards have a no go at Oktoberfest.
1 litre of beer will cost you about 9 - 10 €
Please do not skimp on tips (10-15%) for servers!
❄ Holidays are coming.
❄ And Munich is absolutely ready to welcome them. On Christmas there is a large diversity of activities and of course - beautiful and dreamlike markets.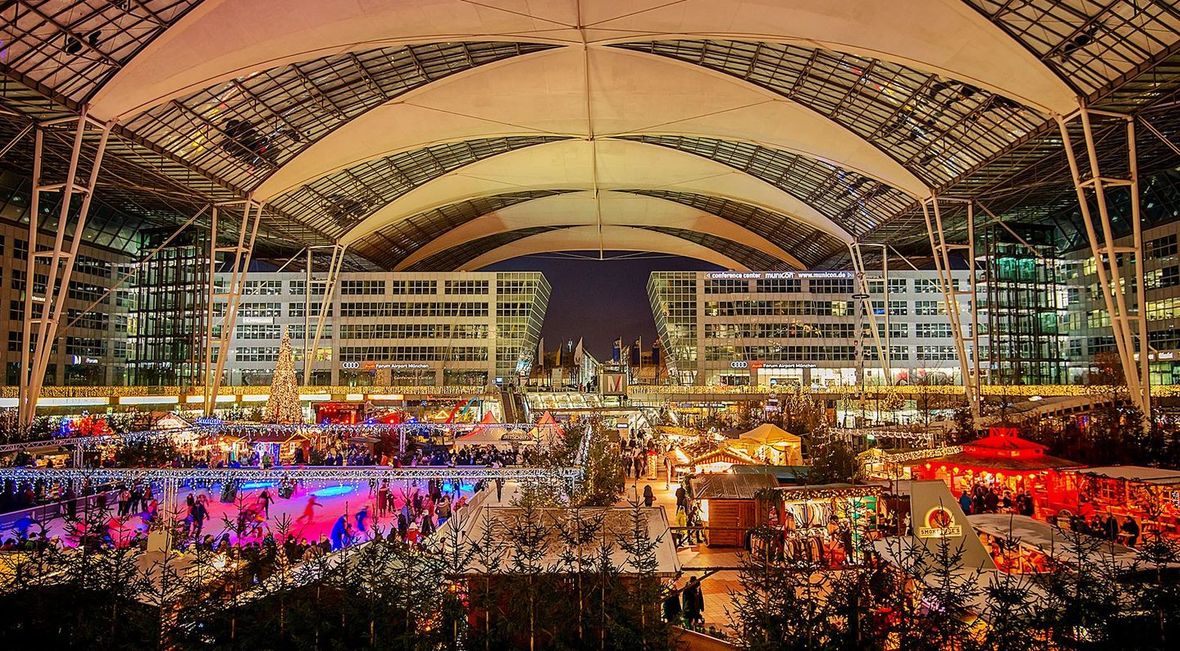 ✯ Christkindlmarkt
Probably, the most traditional Christmas market in the city. Here you will find fresh gingerbread, mulled wine, insanely delicious candied almonds, beautiful fur-tree toys, and other handmade crafts. Experience the romantic atmosphere and real Christmas miracles.
Photo by Bernhard Funk
✯ Sendlinger Tor Christmas Market
This one is a bit smaller, but still amazing! Sendlinger Tor christmas market is a perfect place for christmas shopping, because there are a lot of vendors selling cool products from around the world. There are also a bunch of restaurants and cafes around the area, where you can relax after a long day.
✯ The Pink Christmas Market
50 shades of PINK. Pink Christmas welcomes people of all shapes and sizes and is located in Glockenbachviertel, Munich's LGBTQ neighbourhood. Unique atmosphere, funny shows, pink glow, famous musicians, comedians and extra glamour await you here.
✯ Weihnachtsdorf
In addition to a wide range of culinary delicacies there are sculptors, figure carvers, glassblowers, weavers, a goldsmith, a horn carver, a historic bread bakery and many other craftsmen to present their craftsmanship in the Weihnachtsdorf. Here, various live music programs are also held daily.
3. Frühlingsfest
This festival is considered the perfect warm-up for Oktoberfest. The fest usually lasts for 17 days and here you can not only drink beer (though it is advisable :)) but also have fun on several rides such as the Riesenrad, Geisterbahn, the Frisbee and Münchner Rutschn, which is the longest portable slide in Europe. Flea-markets, big fireworks, taaaasty food, vintage car exhibition will definitely leave you joyful memories.
4. Tollwood Festival
The Tollwood Summer Festival 2020 will not take place due to the corona pandemic.
Festival is often referred to as the "alternative Christmas market" in Munich.
It will take place from 25.11. to 31.12.2020.
"Markt der Ideen" (marketplace of ideas) will be until 23.12.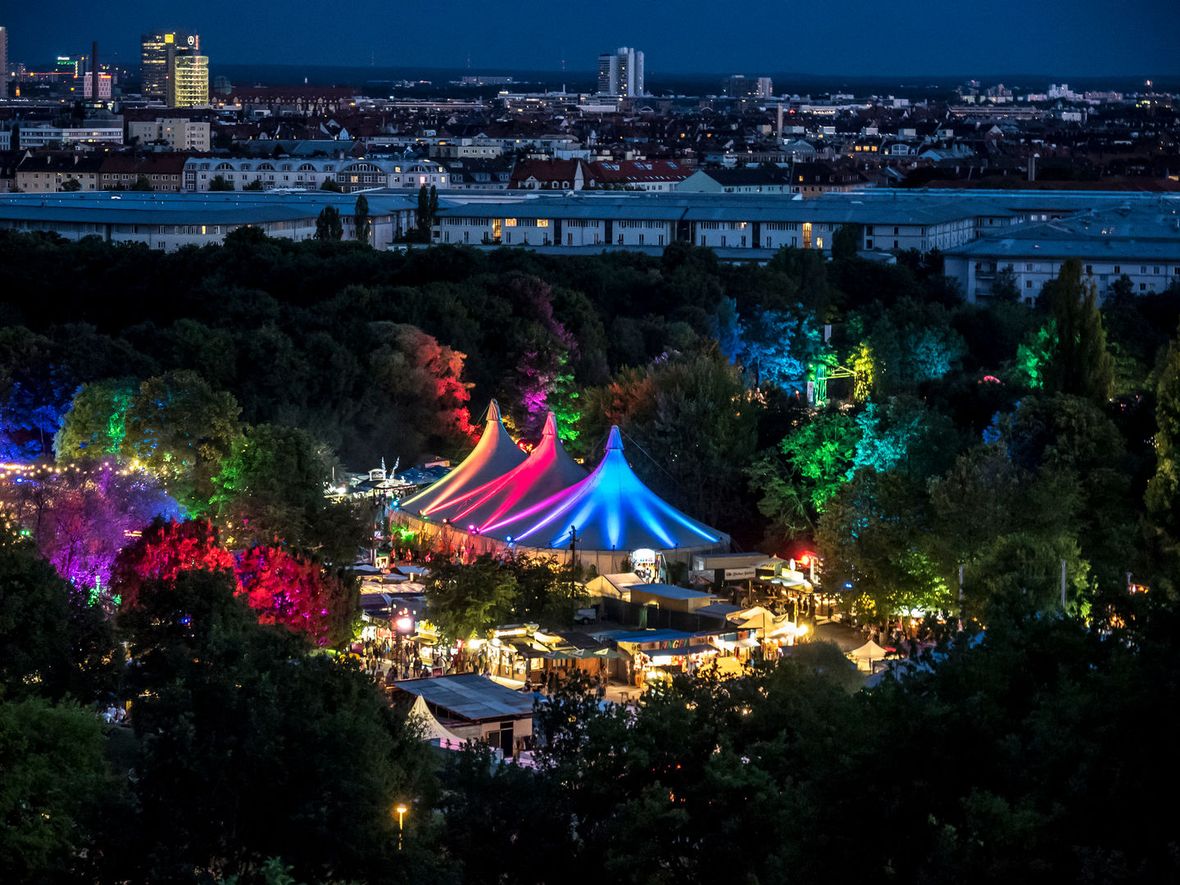 Where: Theresienwiese, Munich
In Summer the Tollwood festival extends over 25 days in June and July and takes place in the Olympiapark. Interesting shows, concerts of highly popular local and international artists, theatre and circus performances, creative sculptures that highlight a specific message about ecological and social commitments - everything presented will arouse your interest and fill you up with positive energy! Don't miss out on such wonderful event.
Photo by Ute E
Ticket prices for both festivals depend on what shows and concerts you want to visit, admission itself is free. To find the prices, please, visit the official website of Tollwood festival 10 days before it starts.
Opera, Theater and Musicals
Munich has got an extremely rich theatre, opera and music culture. There are 5 governmental, 3 municipal and more than 50 privately owned stages and cabarets. We are sure, that the great diversity of performances will provide everything for your entertainment.
Must-hear opera and operetta: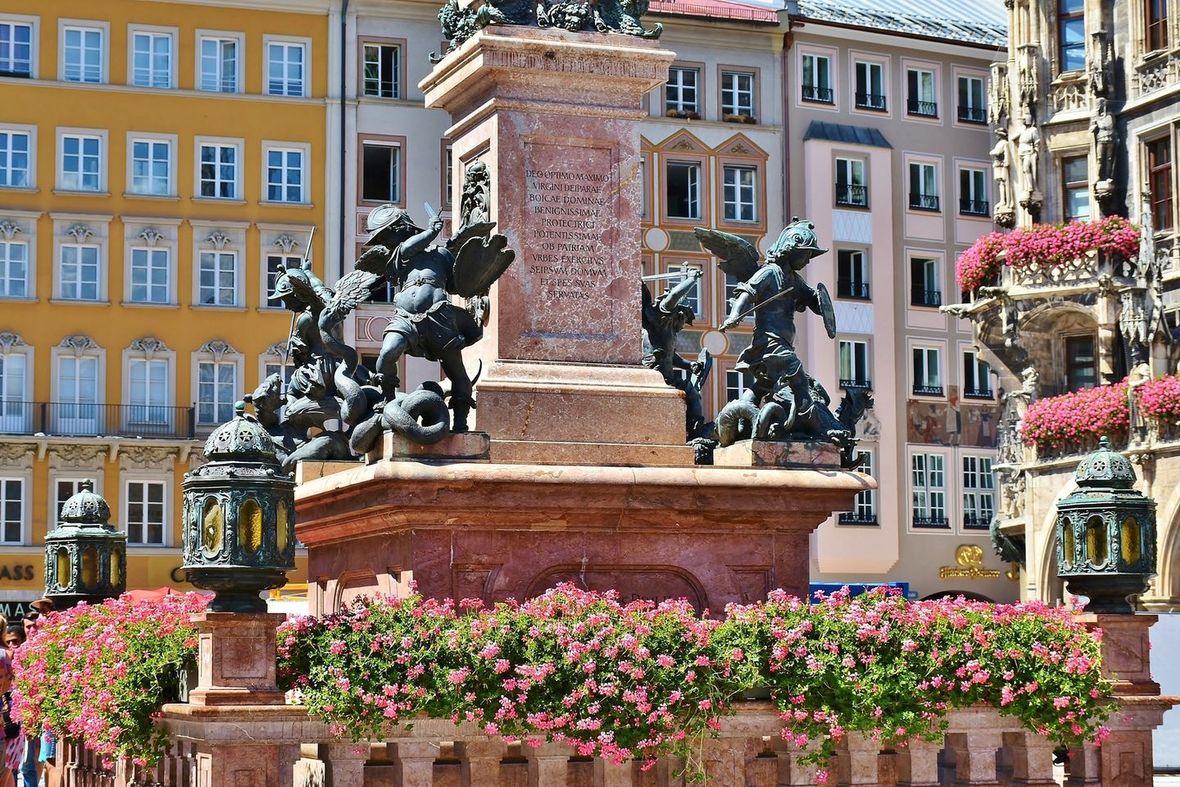 • Don Giovanni
Music by Wolfgang Amadeus Mozart
State Theatre at Gärtnerplatz
• La traviata
Music by Giuseppe Verdi
The State Opera
• From the House of Dead
Music by Leoš Janáček
The State Opera
• Der tapfere Soldat Based on motifs from George Bernard Shaw's
"Arms and the Man"
State Theatre at Gärtnerplatz
Musicals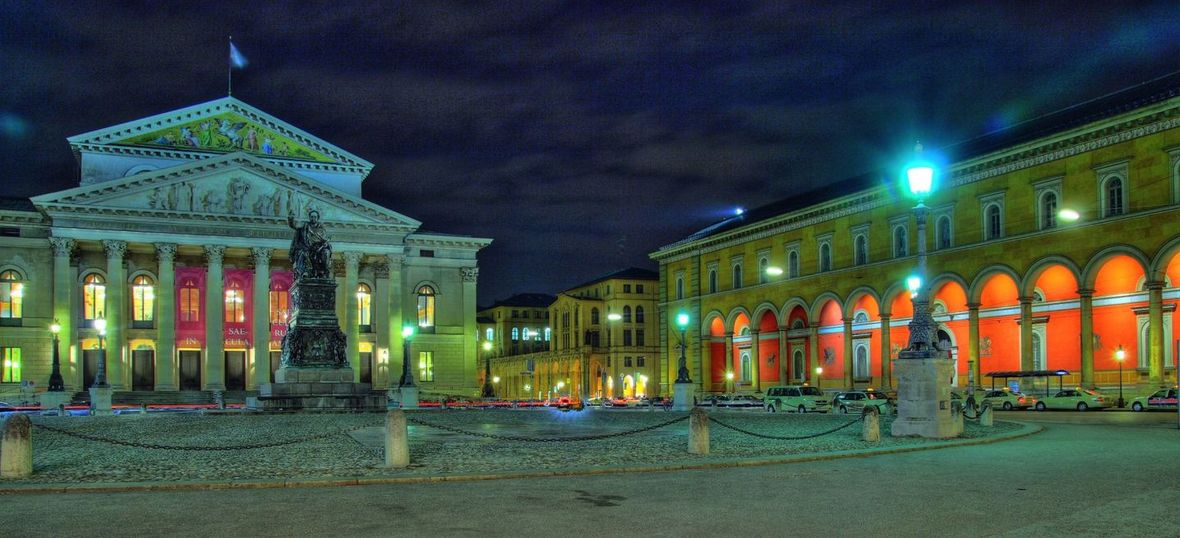 • Fack Ju Göhte – the musical
Theater im Werksviertel
• Mamma Mia!
Deutsches Theater
Photo by Johannes Meyer
• "BEAT IT! – Das Musical über den King of Pop!"
Circus Krone
Theatr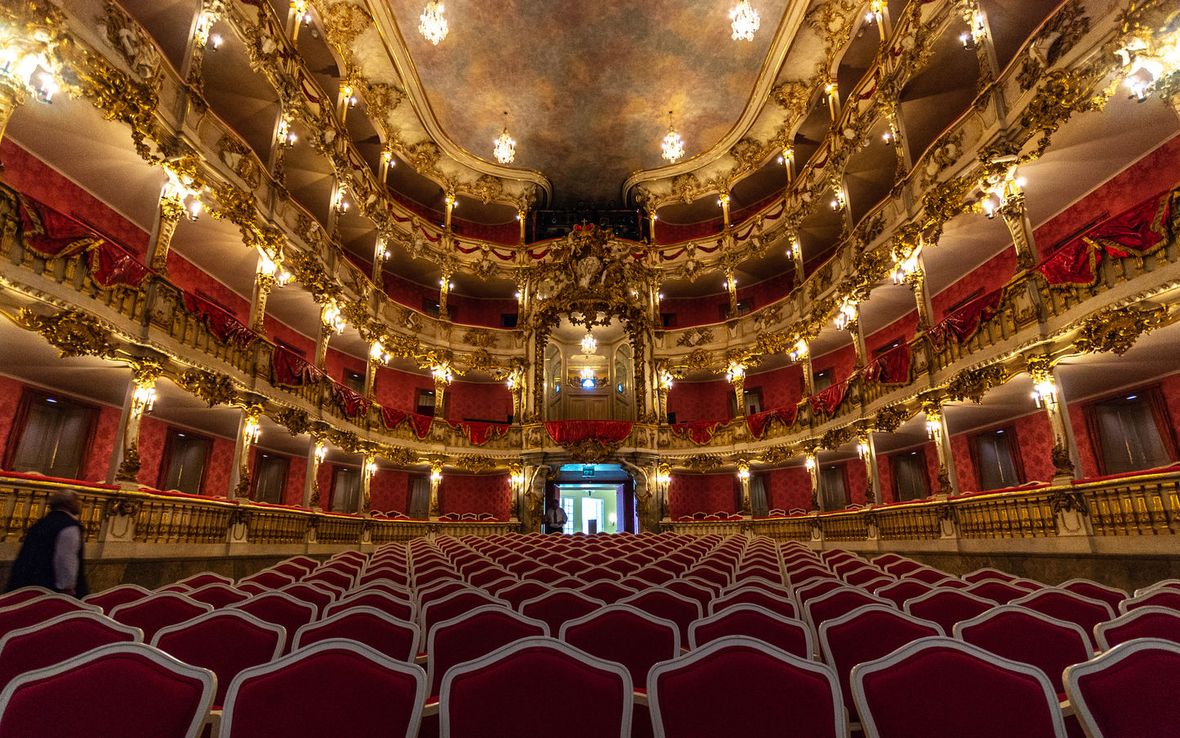 - Schöne Neue Welt
Munich People's Theater
- Die Hand ist ein einsamer Jäger
Munich Kammerspiele
- Momo
State Theatre at Gärtnerplatz
Photo by Gilbert Sopakuwa
Best food destinations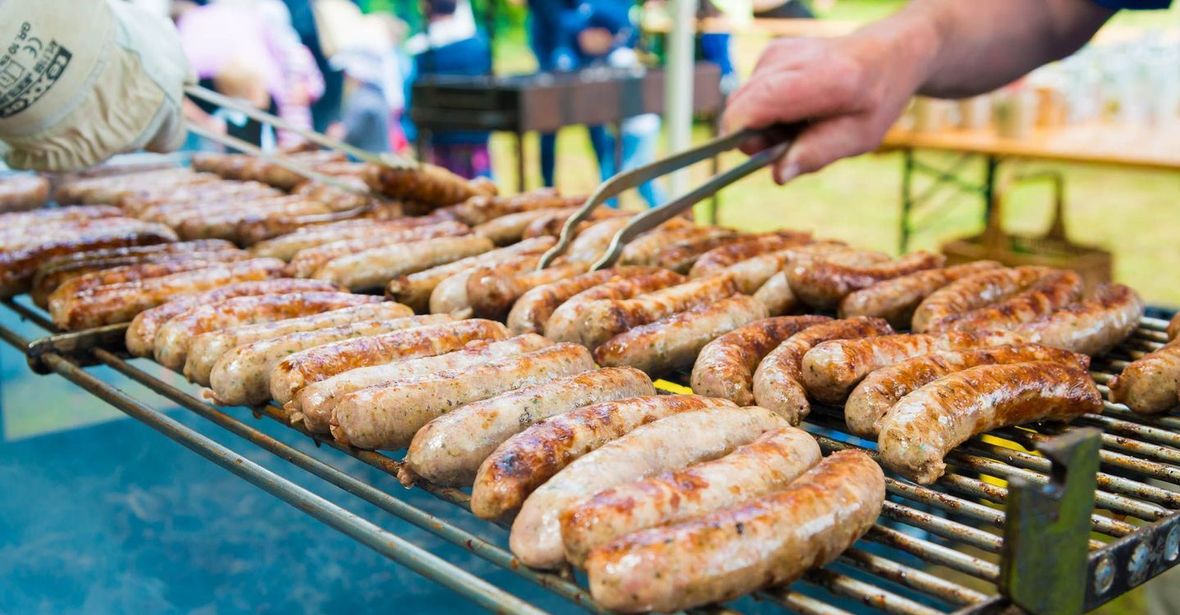 Traditional bavarian cuisine is considered one of the most delicious in the world and where else if not in Munich is the best place to try it! Even if you are (unfortunately) not a huge fan of schnitzels, pretzels, dumplings and weisswurst - don't worry - the capital of Bavaria offers you a rich selection of italian, turkish, greek, japanese and other foods to savour.
Photo by Peter Goll
The best traditional restaurants with the tastiest menu
1. Wirtshaus in der Au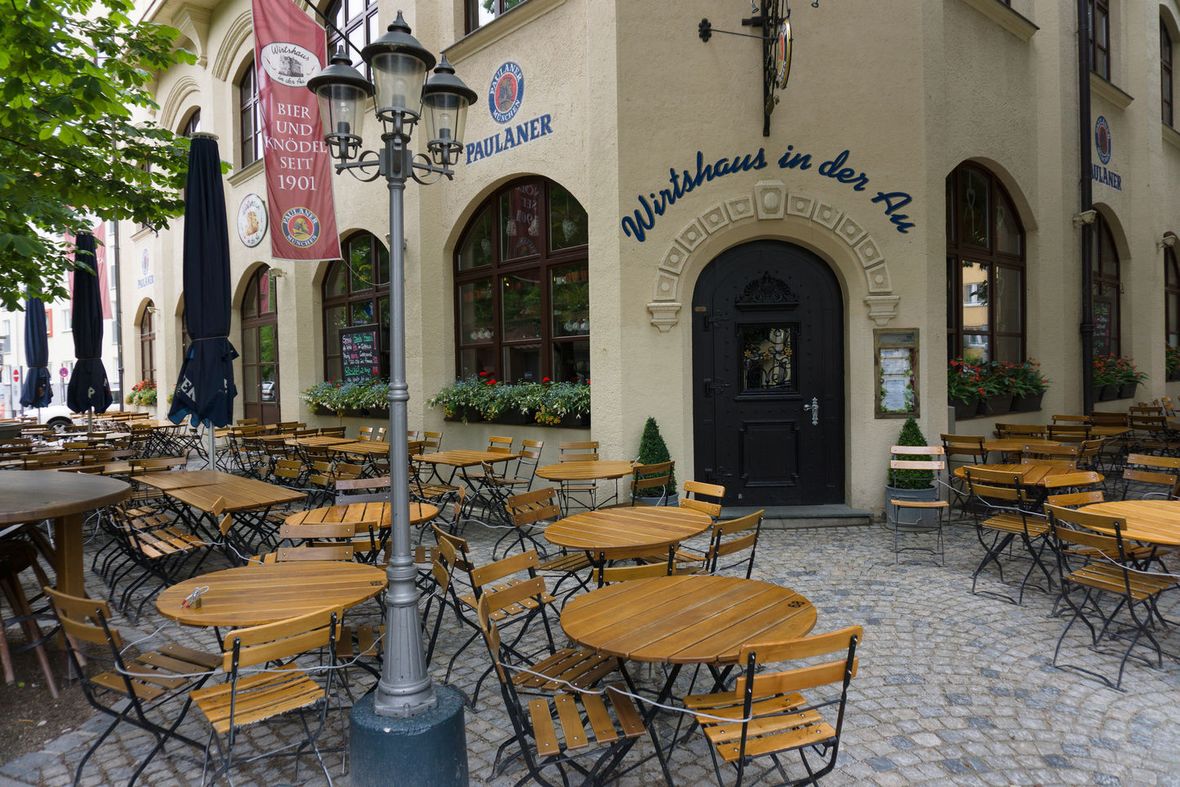 Reasonable prices, terrific timeless dishes, courteous service and authentic bavarian atmosphere - it is a simply wonderful restaurant, that is loved by both tourists and locals.
Try THIS:
- Schnitzel with potato salad
- Roasted pork
- The dessert platter
Photo by Brad Mohr
2. Gaststätte Großmarkthalle
This restaurant is especially popular for its weisswurst. This place is not very popular among tourists (yet), so it is easy to have a reservation there.
Try THIS:
- Weisswurst with Weissbeer
- Kaiserschmarrn
- Kalbsbeuscherl with Semmelknödel
3. Hofbräuhaus
And, of course, the cherry on top is Hofbräuhaus. Historical place, where not only fresh and cool beer, but also yummy food is served. Be sure to book your table in advance, because this beerhouse is busy EVERY DAY.
Try THIS:
- Wiener sausages
- Bierbratl
- Brotzeit plate
Other restaurants that are totally worth your visit
1. Kebab Haus
Wanna try one of the best kebabs in town? Then come in and enjoy! Fresh pita bread, different sauces, tasty meat and falafel can be ingredients of your good döner.
2. Bamyan Narges
Afghani cuisine, that fascinates with its diversity and unique taste is presented here in full. The highlight dish of the place is the narendj palau - baking lamb (or other meat) that is served with rice delicately flavored with orange peel, pistachios and almonds. Even real (often very conservative) bavarians love it!
3. Cafe Luitpold
The elegant cafe with beautiful and delicious desserts and pastries. An absolute must-visit for all sweet tooth out there.
4. Indisches Fastfood
Here is a hearty dinner for low price possible. Little cozy place, where true indian food can be found. Friendly and attentive service will provide you positive impressions for the rest of the day.
5. Prinz Myshkin
The original vegetarian and vegan restaurant in Munich. All fares there are cooked exclusively out of fresh ingredients. The concept of the place is focused on healthy eating and relaxed atmosphere.
How to get to Munich?
Obviously the city can be easily reached by every type of transport. Here are our little tips on how to do this more conveniently.
By plane
The main airport in Munich is the Munich International Airport. There are two terminals, from both of them you can take a train to the city center.
By train
You can reach the Munich Central Station from numerous countries and at the same time automatically get to the heart of the city after arrival.
Deutsche Bahn has Munich as one of its main central points and offers regional and long-distance connections to many cities in Germany. It also includes several connections to ICE high-speed trains.
By car
Munich has excellent autobahn network connections to many german cities. The A8, A9, A92, A94, A95, A96 motorways are the most used ones.
Get around
Public transport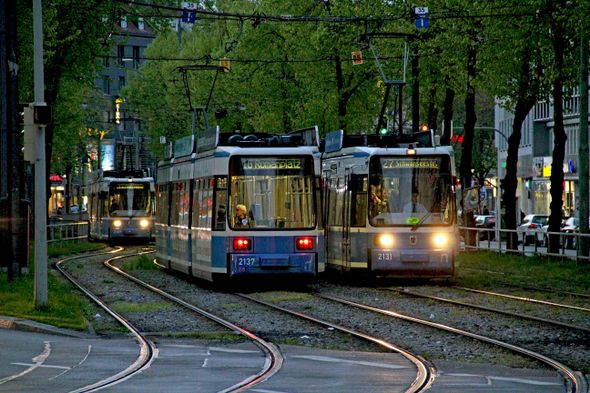 In MVV offices in the underground stations at Marienplatz, the Hauptbahnhof, Sendlinger Tor, the Ostbahnhof and Poccistrasse you can get free network maps and timetables, buy tickets and get all useful information. Almost on all subway stations there are vending machines, where all kinds of tickets can be purchased.
Photo by Patrick van Britsom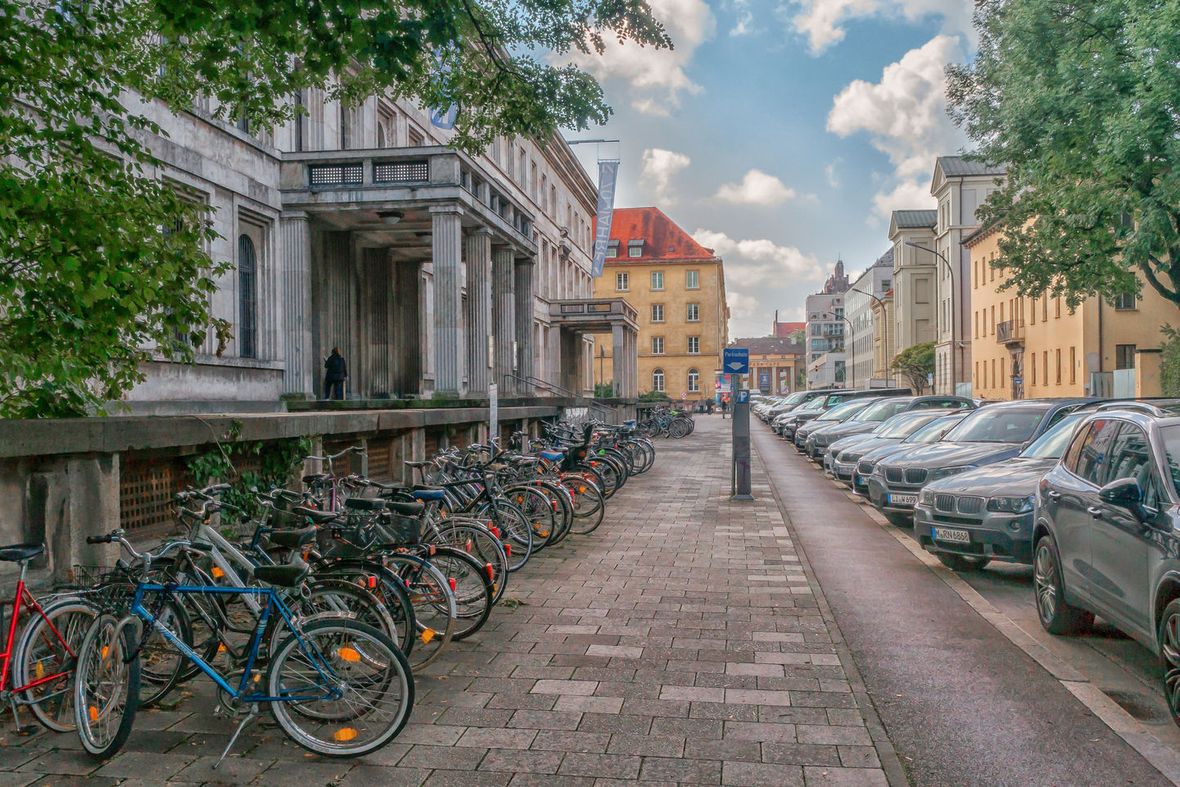 Bicycle
Countless cycle paths make it sooo simple to travel through the city. There are numerous cycling tours in Munich center, that might be a very good option for active tourists, who don't like stereotypical excursions.
Photo by Janos Kertesz
Hotels and Accommodation
Business traveling, individual tourism, or in larger groups, camping, active recreation, family holiday - for every type of travelers there are different accommodation options offered in Munich.
Hotel Cristal München
Located right in the heart of Munich within a 3-minute walk from Munich Central Station, this 4-star hotel is well-known for its spacious rooms of various categories with modern interiors and breakfast with a generous buffet. In case if you are planning a short holiday or visiting the city for the first time, then the stay in Hotel Crystal is a perfect choice.
Ibis Hotel München Messe
An affordable pet-friendly hotel with its quite advantageous location in front of a bus station, from which you can easily get to Munich in 10 minutes. Freshly renovated modern rooms provide high standard amenities for your comfortable stay: free high-speed WIFI, air conditioning, soundproof walls, Flat Screen TV, and more.
To book exclusive deals in Ibis Hotel München Messe visit click here.
Acomhotel München-Haar
This modern business hotel is located in the eastern part of Munich. Stylish light-filled rooms leave nothing to be desired. Hearty continental breakfast buffet every morning and also delicious drinks and snacks in the 24-hour lobby bar await you here.
To book exclusive deals in Acomhotel München-Haar visit click here.
HotelFriend offers you a wide and attractive variety of hotels in Munich in different categories. Also, you will find a cheaper deal with free inclusive services. So if you are looking out for the very best offer, HotelFriend has got you covered. Here you will surely find what you need.
Travel Tips
💡Entry in many museums, galleries and exhibitions costs only 1 € on Sunday in Munich.
💡Flea market in Olympiapark takes place every Friday and Saturday and is a good alternative to classic shopping.
💡We highly recommend you to get a map of suburban train rails, underground lines and stations in the MVV to navigate better. You can also download the MVV-App.
💡Punctuality here is very appreciated - don't be late for more that 15 minutes if you plan to meet with someone.
💡Remember, that you can bring your own food in beer gardens, it's absolutely free. The only thing you have to order is beer.