Dates
Adults
2
Please, enter a destination
Filters
Top facility
More
Top facility
More
Hotels in Mallorca
(13504 results)
Mallorca Travel Guide
Mallorca is the largest island of the widely known Balearic Islands. The island's name in translation from Spanish means "The biggest". This place attracts tourists from all over the world. According to the statistics, around 12 million tourists come to Mallorca from year to year. The resort is especially popular among visitors from Germany, Great Britain, France, and Switzerland.
Palma de Mallorca, the capital of the island, is a fascinating city with modern infrastructure that perfectly demonstrates cozy narrow streets famous worldwide. Moreover, the majority of visitors come here to enjoy its turquoise crystally clean waters of the sea, golden sand beaches, and picturesque landscapes that take the breath away.
Best Time To Visit Mallorca
Mallorca is mainly affected by a Mediterranean climate; the vacation period lasts for half a year — from May till October. The summer in Mallorca can be described as hot, while winters can be characterized as quite mild, warm, and humid.
The largest influx of tourists in Mallorca is noticed from mid-April to the end of October. The whole summer is considered a high season. That means that there is the largest tourist flow in this period.
July is typically the hottest period and this trend has been constant for years. Traditionally, families with kids are used to come here in the period from September to the mid of October when the island is not too much crowded.
In the summer, the average temperature of the air is around 26-31 °C, and in the winter season, the temperature may range from 11 to 13 degrees above zero. In August, the temperature of the water reaches +25 °C.
Interactive Map of Mallorca
Towns and Resorts
It doesn't matter whether you choose to rent a car, go on foot, or ride a bicycle, in any case, you'll have a great chance to explore all the sides of this magnificent island. Additionally to the beach recreation, tourists are highly recommended visiting at least a few local towns and villages.
Palma de Mallorca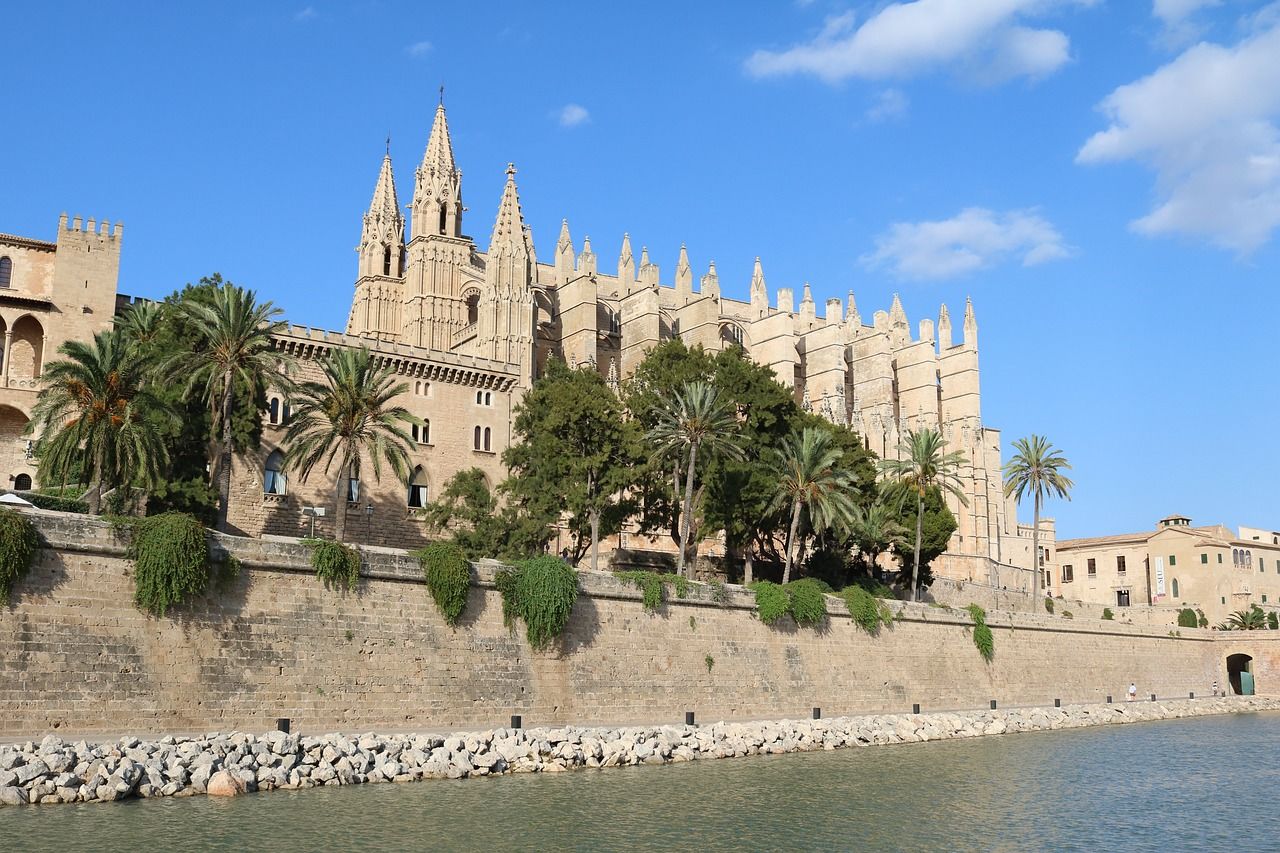 Palma de Mallorca is one of the most valuable places on the island, as it has unique stylistics. Similtaniesuly, it provides various options for visitors. The capital of the island is located on the southern coast of Mallorca, and it attracts tourists for its breathtaking Mediterranean views. Nowadays, almost half of the island's residents are living here, taking benefits from the best restaurants, trade centers, and places of recreation.
For its architecture, Palma is quite similar to Barcelona, that is one more reason for its visiting. Among the main attractions, there is the Cathedral of Santa Maria, Es Baluard Museu, Fundacio La Caixa, and Almudaina Palace.
Port d'Alcúdia
As a famous resort town and tourist destination on the north-eastern coast of Mallorca, it's extremely popular among both tourists and residents. The place attracts its guest with its beautiful white sand beach and clear seawater. Besides, it has a highly-developed infrastructure and friendly residents. As soon as you arrive here, you are recommended to visit Hidropark, Golf Alcanada, and Playa de Muro.
Soller

This town, located in the bushy valley of orange trees, seems to be isolated from the rest of Mallorca by picturesque mountains. Soller is attractive not only due to its magnificent landscapes, but also for such places of interest as Balearic Museum of Natural Sciences, Art Nouveau building called Can Prunera, and Plaza de la Constitución. If you are eager to plunge into the traditional Spanish atmosphere, you are kindly requested to come here.
Valldemossa
Valldemossa is considered as one of the most attractive villages of the island. It's situated on the high hills of the Tramuntana mountains, which are around 17 km far from Palma de Mallorca. The list of local attractions includes the monastery, art galleries, and gift shops that are worth visiting. If you have some free time, don't miss the chance to wander along the cozy village streets. Here you can find traditional bakeries where the owners will willingly treat you with locals' popular "potato pie."
Magaluf
Magaluf is tremendously known as a prestigious resort not only in Spain but all over Europe. At the same time, it has reached popularity due to its alcohol events, wet-t-shirt contests, and teenagers walking on the beach. For instance, movie staff from abroad are coming here for shooting footage that will be the bestselling nightmare.
It should be mentioned, that some people avoid coming here due to overcrowded beaches. In turn, there is a special reason that made Magaluf one of the most prosperous resorts. It attracts tourists for white sand beaches and well-developed infrastructure. The beach area development became a motivation factor for the government to open numerous theme parks within the area.
Best Beaches
According to the official data, Mallorca includes more than 200 beaches. Most of them are covered with sand and located within amazing natural conditions. Moreover, some of them are placed in isolation, which makes them even more valuable and unique.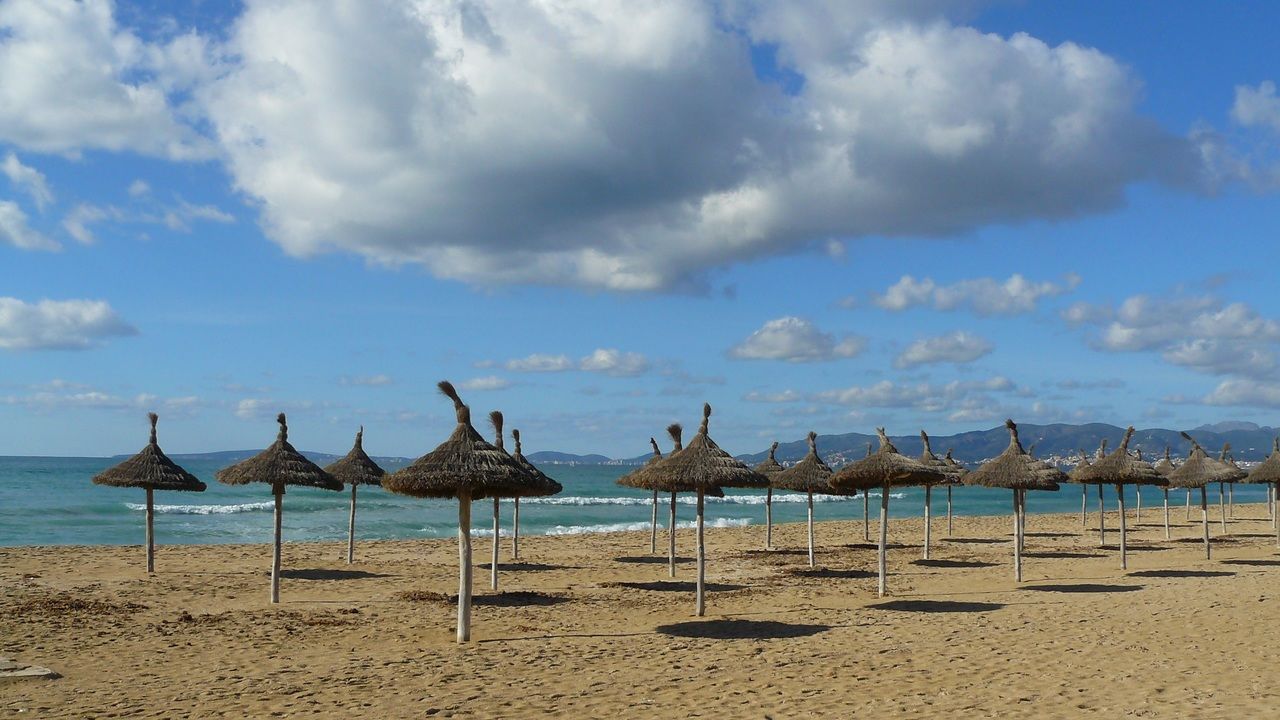 Playa de Palma
The longest Mallorca beach is the most popular among the tourists. Its key benefit lies in length, central placement, and developed infrastructure with various bars, pubs, and cafes. Moreover, the beach is surrounded by a promenade with nice souvenir shops, hotel areas, and clubs. Also, this resort can boast its snow-white beach sand, transparent seawater, and numerous leisure activities.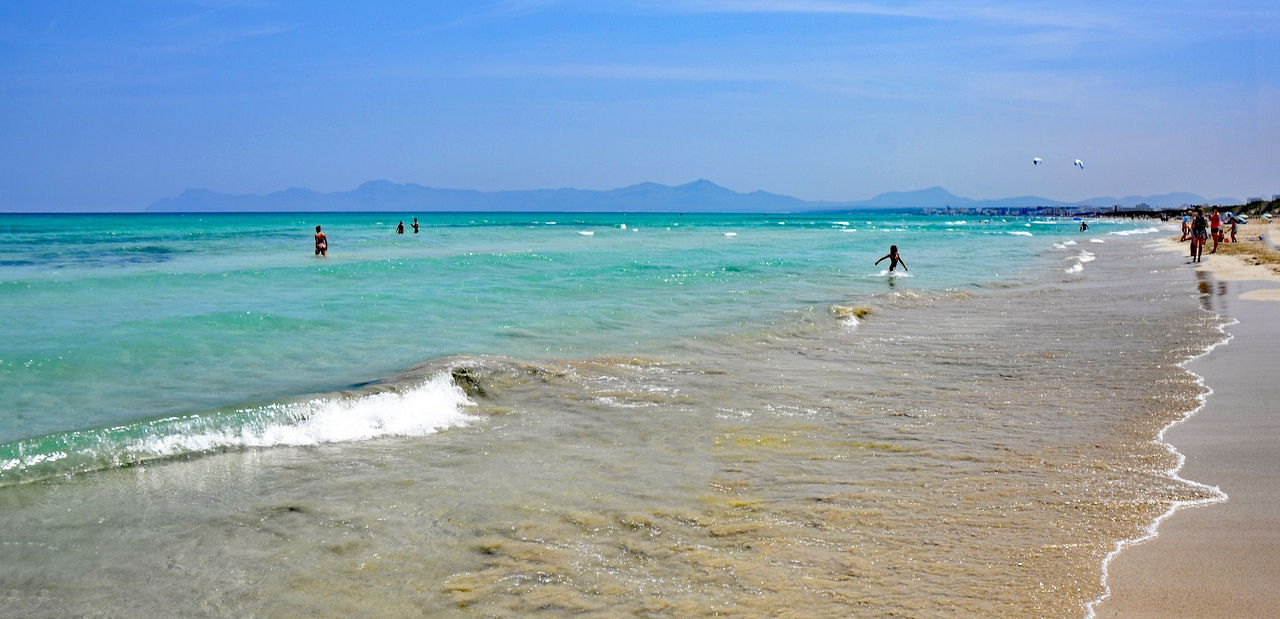 Playa de Muro
The beach, located in the northern part of the island, is considered as an amazing Blue Flag place with 6 km length. Nowadays, it's separated into 4 sections, all of them have clear turquoise sea waters and golden sand. This place is a perfect choice for those who prefer calm rest, as the place is quiet and comfortable. It's especially popular as a family resort.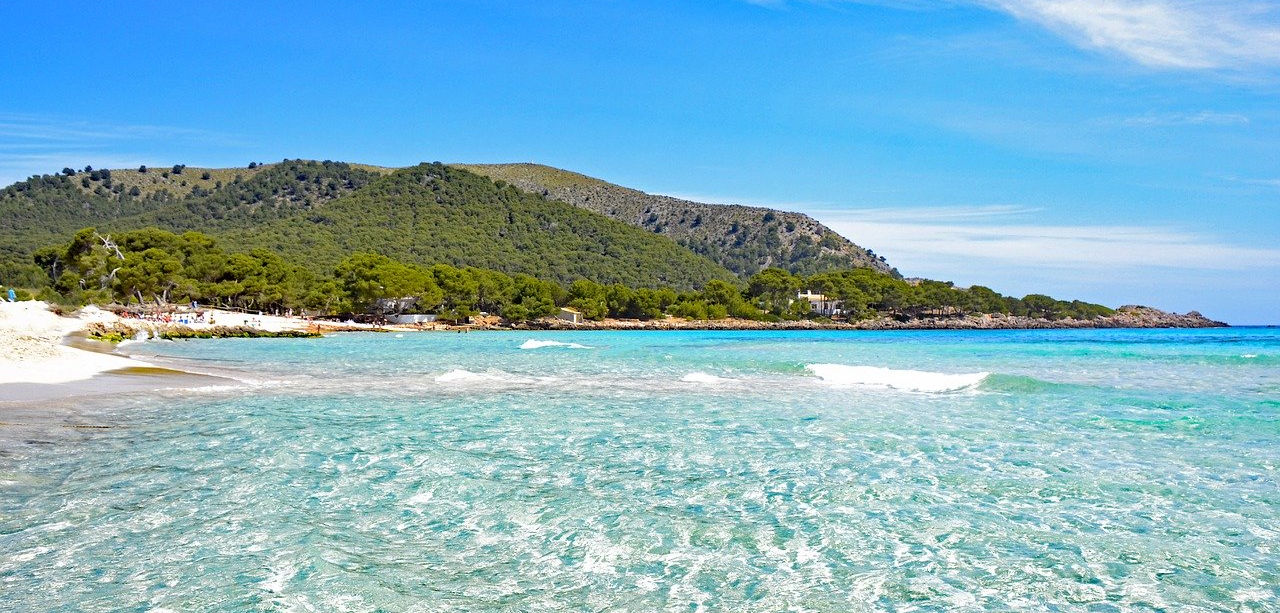 Cala Agulla
In the surrounding of sandy dunes and desert greenery, Cala Agulla is considered as the most beautiful beach located not far from the Cala Ratjada resort town. Crystal sea waters and white sand make this place attractive to millions of tourists all around the world. Its length is around 800 m. Here you can find different cafes and bars where you can have a meal or a glass of ice beer.
Attractions And Activities
Mallorca is unique and diverse. Besides the attractions of natural origin, there are a lot of monuments of historical value in different parts of the island. It offers visitors the opportunity to go back to the past centuries.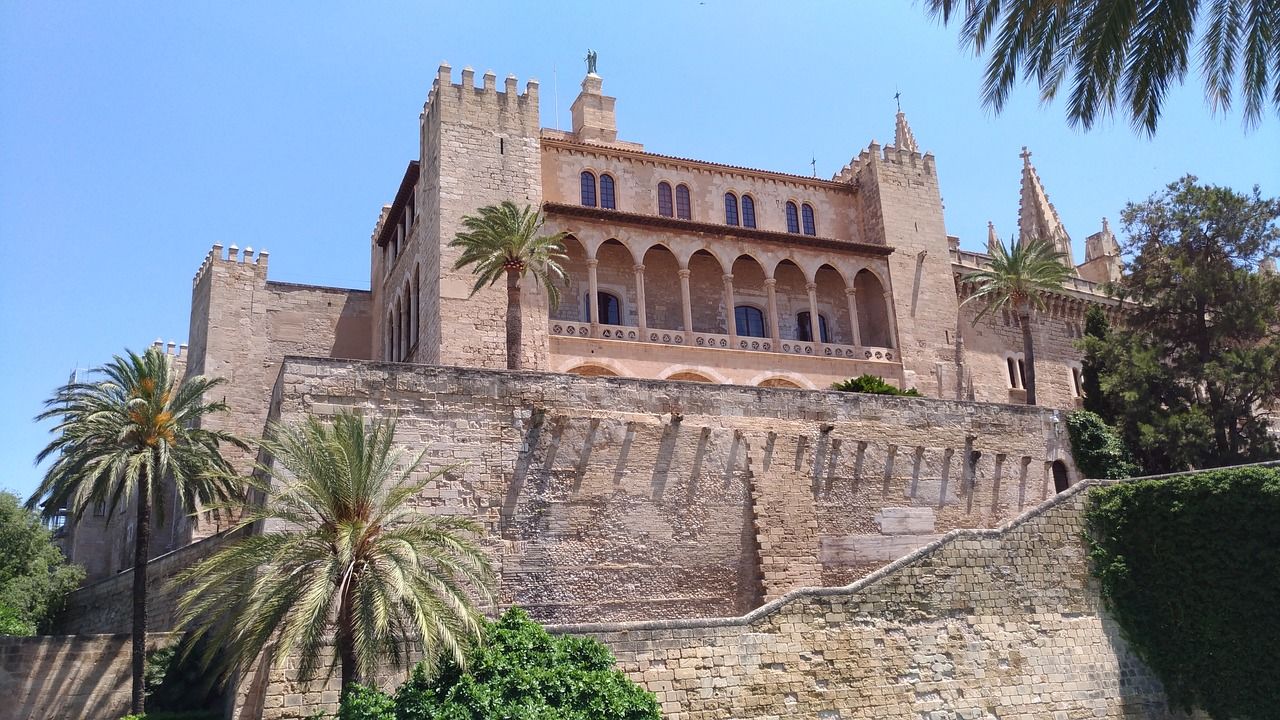 Almudaina Palace
Nowadays, it is regarded as the oldest residence of Spanish kings. To this day, it contains the apartments of the ruler of the country in Mallorca, as well as the military commandant's office of the islands and the museum. While visiting this place, be sure to pay your attention to a beautiful royal garden that is located at the foot of the palace, and ancient Arab baths.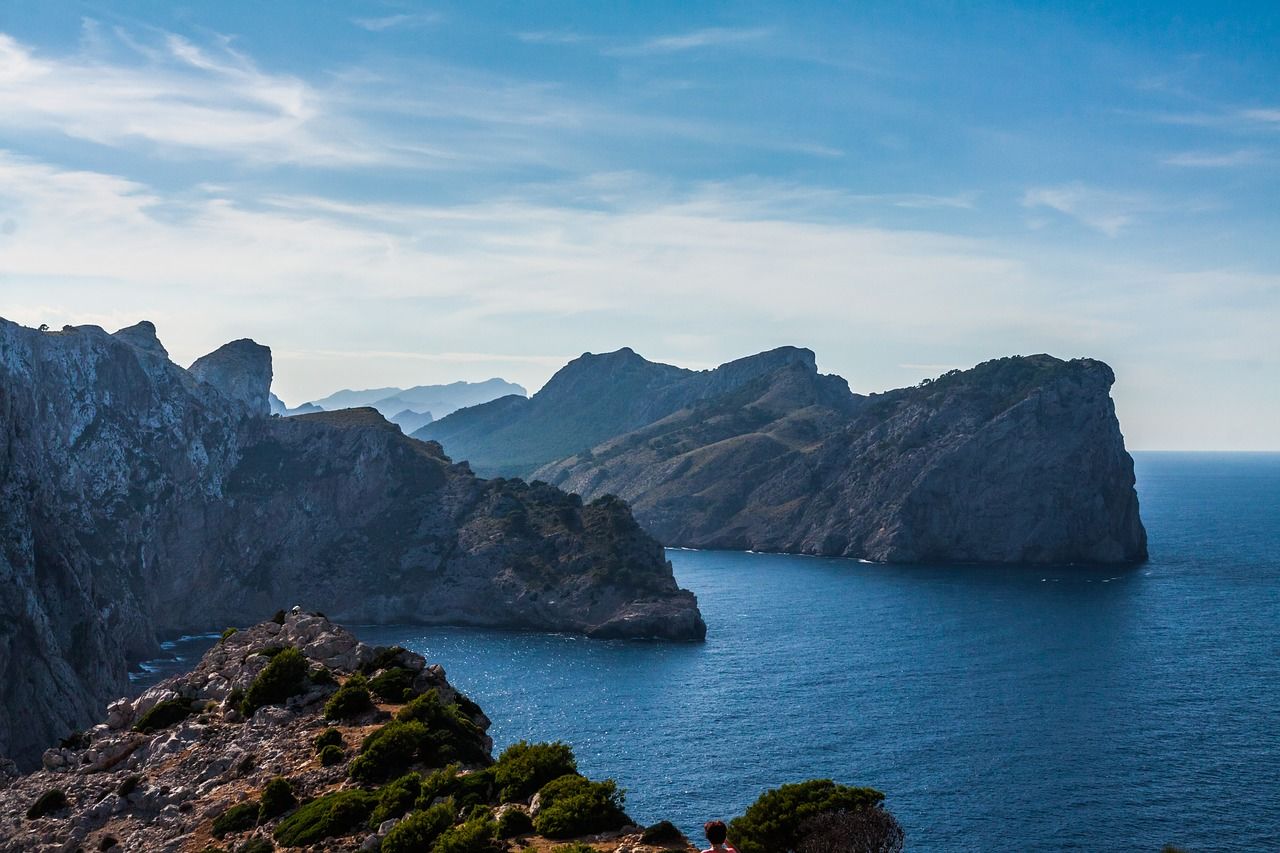 Cap de Formentor
Cap de Formentor is a must-visit place in Mallorca. Picturesque landscapes, a modern beach with white sand cover, attractive architecture, and a tremendous view from the observation deck invite all tourists to enjoy the sightseeing. While being here, don't miss the chance to see a few tourist buildings and a lighthouse.
Diving
The eastern part of the island provides everything for snorkeling, as there is perfect visibility in the water depths.
Diving season starts from May and lasts till the end of September (or even the beginning of October). Today, most of the resorts provide the opportunity to get engaged in diving classes. Therefore, if you are a beginner, you can get the highest quality services and tutorials with professional instructors.
In other words, try yourself in diving, breathing underwater, and swimming. All the equipment is available for rent.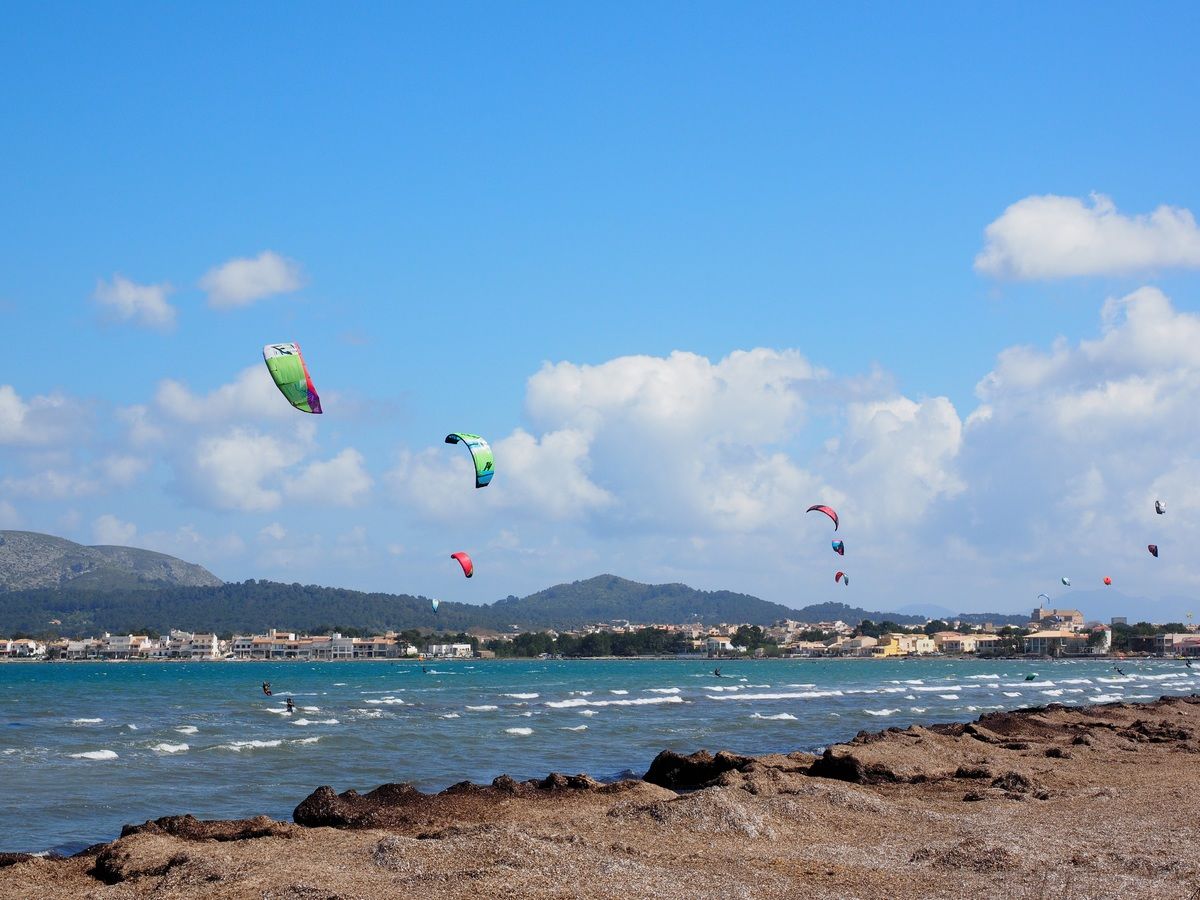 Windsurfing
One more famous water activity is windsurfing. The northern and western island coasts provide all the conditions for slipping along the waves. Windsurfing season lasts from the mid of July till August. Besides, various windsurfing classes and equipment rental centers are available, as well.
Shopping
Shopping is an inalienable part of the vacation in Mallorca. Numerous stores and brand boutiques are located in the central part of Palma de Mallorca
. For example, the street of San Miguel, which is near Plaza de España, is the area where all the major brand shops are concentrated.
Nightlife
Mallorca has been attracting millions of young individuals for a long time due to its great variety of nightclubs. Most of the places are working till the very morning. So, if you're looking for freedom of nightlife, you should choose Mallorca for your vacation.
For example, if you have stopped in the capital of Mallorca, don't miss the opportunity to chill in Santa Catalina or Paseo Marítimo with its famous pubs, bars, and clubs. In TITO'S Mallorca, Santorini Club, or STAGE by BCM, you'll have an unforgettable night full of joy.
Best Ways To Get To Mallorca
It has to be mentioned that there is an airport in Palma named Son Sant Joan, which is why the best option to get there is air flight. This airport belongs to the list of the largest Spanish airports. It means that it's serving various flight destinations.
If your budget is limited, you can reach here by train or ferry.
Transport
There are various means of transport that one can use for getting around the island: buses, trains, taxi, car rental, and maritime transport. The bus is considered as the main public transport. For example, by bus, you can reach every city on the island. The fare may vary from 1 to 10 Euros. By the way, this transport is the most economical type of local transportation. Mallorca buses are highly comfortable and all of them have air conditioners.
When it comes to railway transport infrastructure, it consists of several lines that include Palma-Inca-Sa-Pobla and Palma-Manacor. The tickets are available for purchase both at the box offices and directly from the conductors. The average price varies from 2 to 3,7 Euros.
There is one more way of moving between the Mallorca islands — the ferry that can be found in the island's capital. For instance, the ferry is represented by such companies as Baleria, Transmediterranea, and Iscomar. Particularly, Transmediterranea provides catamarans of high speed that are famous for the benefit of time-saving. Thus, one can reach Barcelona for around 4,5 hours, while the way to Ibiza lasts only for 3 hours. It should be mentioned, that such a trip will be more expensive than a trip by a regular ferry.
At the same time, car rental or using a taxi can be considered as the most convenient way of traveling around Palma. The cost of taxi services is influenced by the distance; it is counted according to the special calculation system and starts from 1 Euro per 1 km. Car rental costs around 30 Euros for the whole day. However, a 200 Euro average deposit is required (it is returned after returning a rented car).
Accommodations And Hotels
Mallorca has numerous hotels and apartments for tourists of any budget so that everyone is able to have an unforgettable vacation here.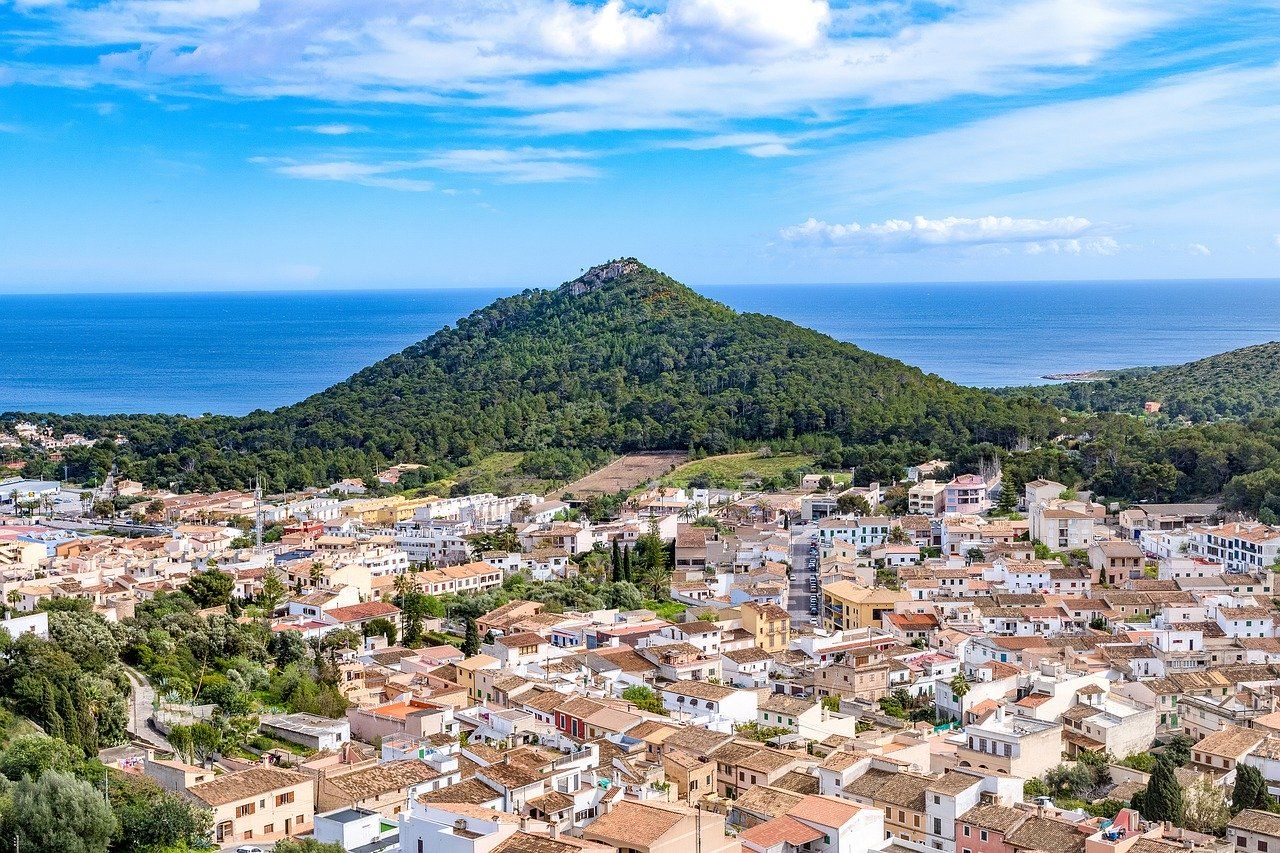 ● Capdepera Hotel that is two miles away from the village, is famous for its Michelin-starred restaurant and nice gardens with amazing flowers.
● Spa Villas of Carrossa Hotel (5*) offers its guests a panoramic sight of the sea and valleys.
● As a prestigious boutique hotel, El Llorenç Parc de la Mar (5*) is well-known for its beautiful terrace, Mediterranean cuisine, and the services of the highest quality.
● Cap Rocat placed on the edge of the nature reserve, is extremely popular among those who are used to excellent services.
There are many other hotels in Mallorca that are available for booking via the HotelFriend website.