Dates
Adults
2
Please, enter a destination
Filters
Top facility
More
Top facility
More
Hotels in Gran Canaria
(7080 results)
Gran Canaria Travel Guide
As the second most populous Canary Island, this archipelago is considered a magnificent tourist destination with almost 60 kilometers of beaches. In addition to a beach vacation, people have the opportunity to admire historical attractions, pristine nature, water sports, and local dishes here. In fact, this island has been declared a Biosphere Reserve by UNESCO, thereby becoming one of the main regions in Europe preserving natural treasures. Locals are proud of their hometown, as it is usually associated with magical flora of Macaronesia, special geomorphological configuration, and rich biodiversity. In order to meet the needs of tourists, authorities took appropriate measures to develop infrastructure and provide the highest quality services. Subsequently, such a considerable number of advantages of this island attracts approximately 4 million tourists annually.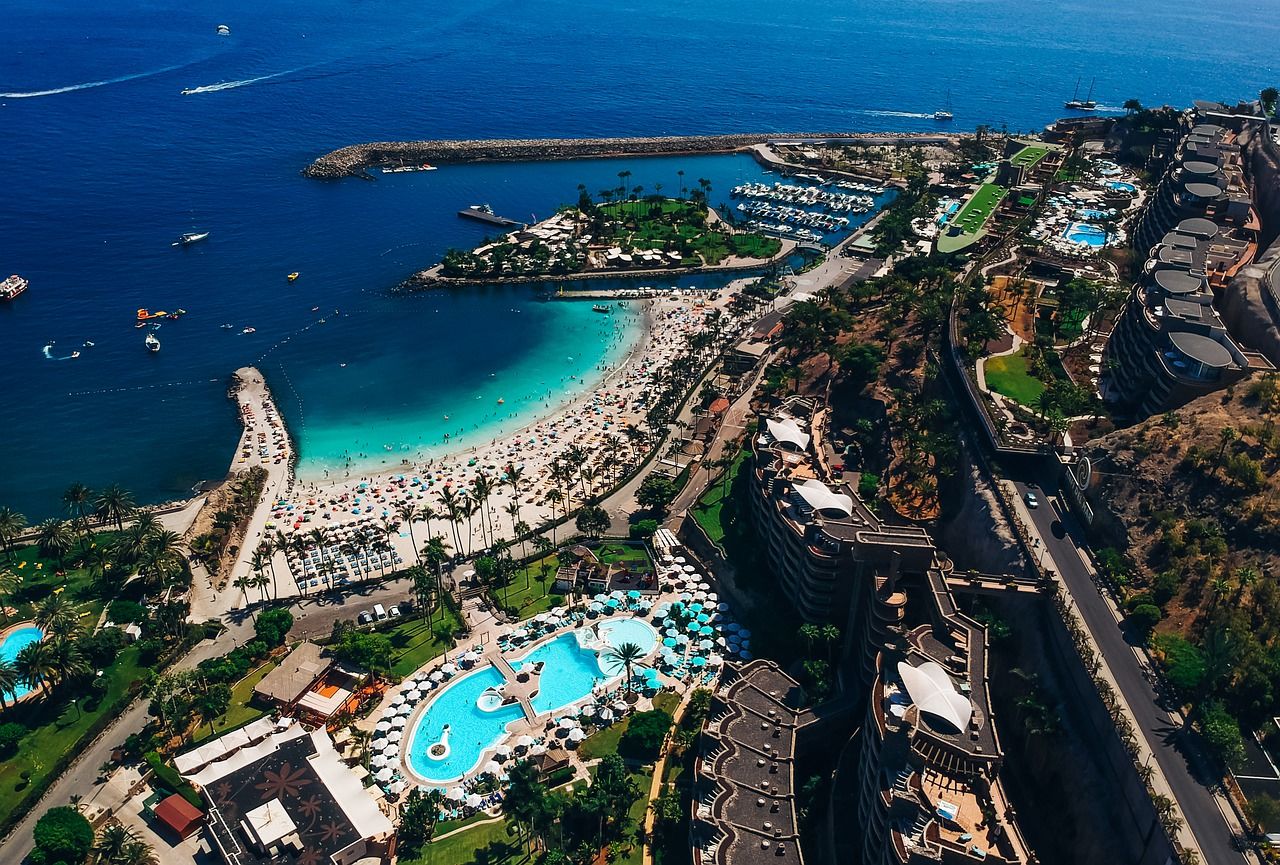 Best Time To Visit Gran Canaria
The island can be characterized by consistent year-round warmth with almost no rain. This weather can be explained by subtropical oceanic climate, which makes summers tremendously sunny and warm. For example, August is the hottest month of the year with an average temperature of 24 °C. In turn, January is the coldest month of the year with an average temperature of 18 °C. Therefore, the island provides comfortable conditions for tourism all year around. It is recommended to visit Gran Canaria from May until November, as the air temperature and sea temperature are very comfortable in this period. Nevertheless, in order to escape crowds of tourists, you should come to this island in the late spring or early autumn.
Interactive Map of Gran Canaria
Towns And Resorts
If you aim to mix beach vacation with interesting walks across charming resort towns of the island, it is advised to pay attention to a variety of local destinations. They provide versatile opportunities for admirers of different kinds of vacations.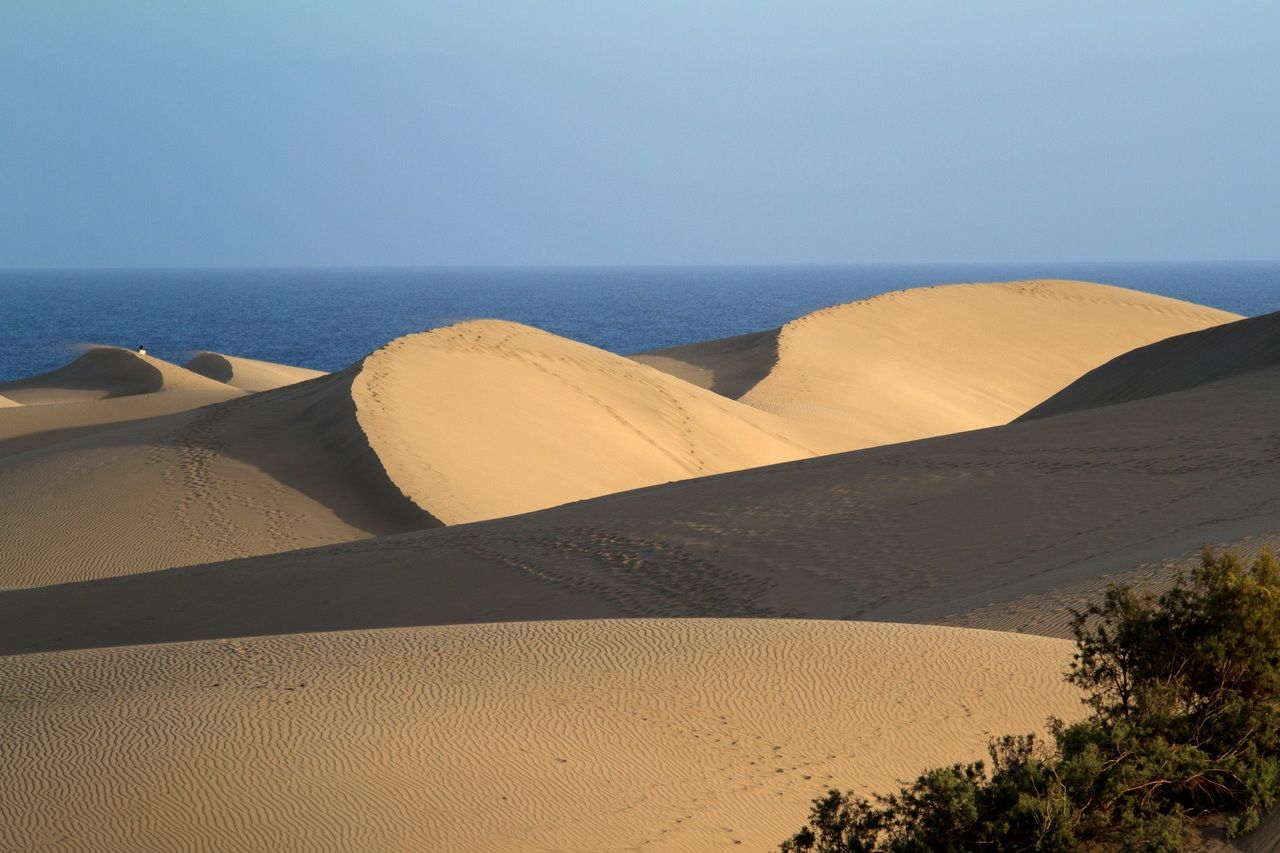 The majority of tourists choose this resort town as the main point of stay on the island. Located in the southern part of the island, this town is often associated with the best beaches and a wide range of sand dunes that make the island look like a desert. Simultaneously, it has vast biodiversity that is expressed through the oasis or la Charca and the tree palm forest. If you want to increase the level of awareness of local attractions, take into account the Botanic park and Aquatic parks.
El Salobre
As one of the most visited towns in Gran Canaria, El Salorbe is widely known due to its magnificent views of the mountains combined with the beach. If you are looking for a well-developed infrastructure, you should head to this town as well. In fact, it is here that you can find shopping centers, the best hotels, and restaurants. Moreover, you have the opportunity to improve your skills in golf, horse-riding, swimming, and cycling here.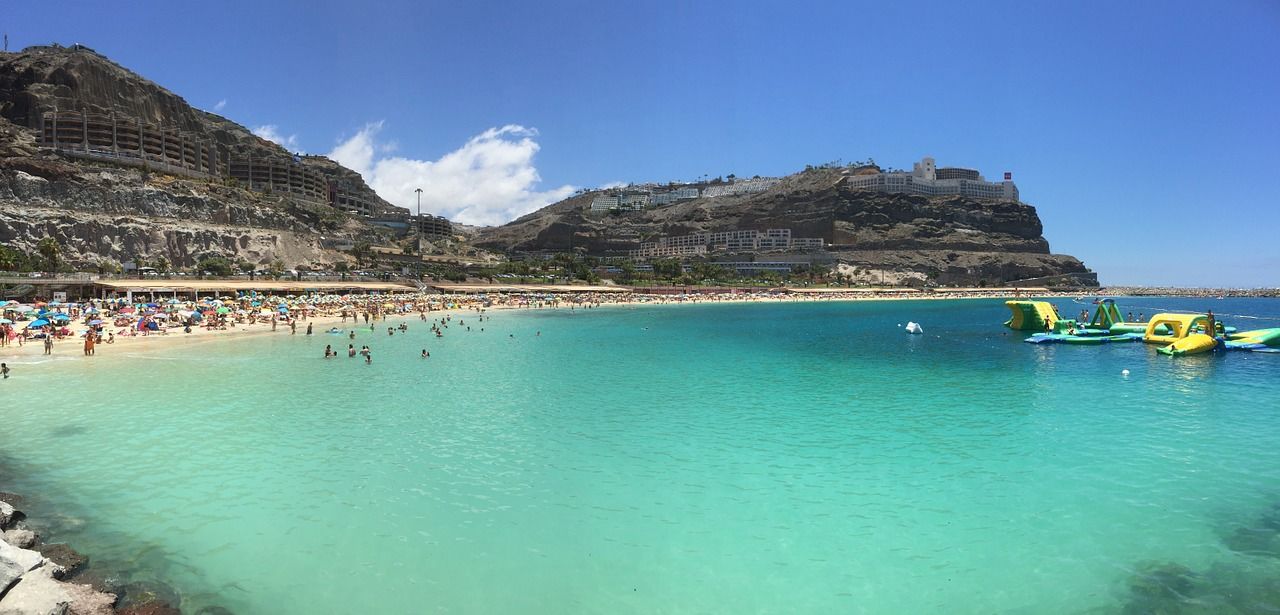 Looking for a place where you can release all your emotions and enjoy tranquility? There is no better town for achieving this goal on the island. Amadores is famous for its quiet sandy beach where you can sunbathe or go snorkeling under the crystalline water that is rich in marine life. Additionally, this resort town can be visited by individuals who are fond of hiking, cycling, and riding a camel.
Situated near Maspalomas and Playa del Ingles, this town can be regarded as a typical chic town in Gran Canaria. Meloneras is a tourist destination where you can meet tourists with different goals. On the one hand, it welcomes numerous luxury guests who can't live without shopping centers, cafés, cars, and restaurants. On the other hand, this resort has the highest concentration of admirers of water sports, such as surfing and diving. Besides, it is here that people have the opportunity to enjoy entertaining moonlight cinema and the adventurous safari.
Best Beaches
The quality of local beaches is one of the main advantages of this island. They are tremendously popular due to white sands, crystal blue waters, and exotic trees.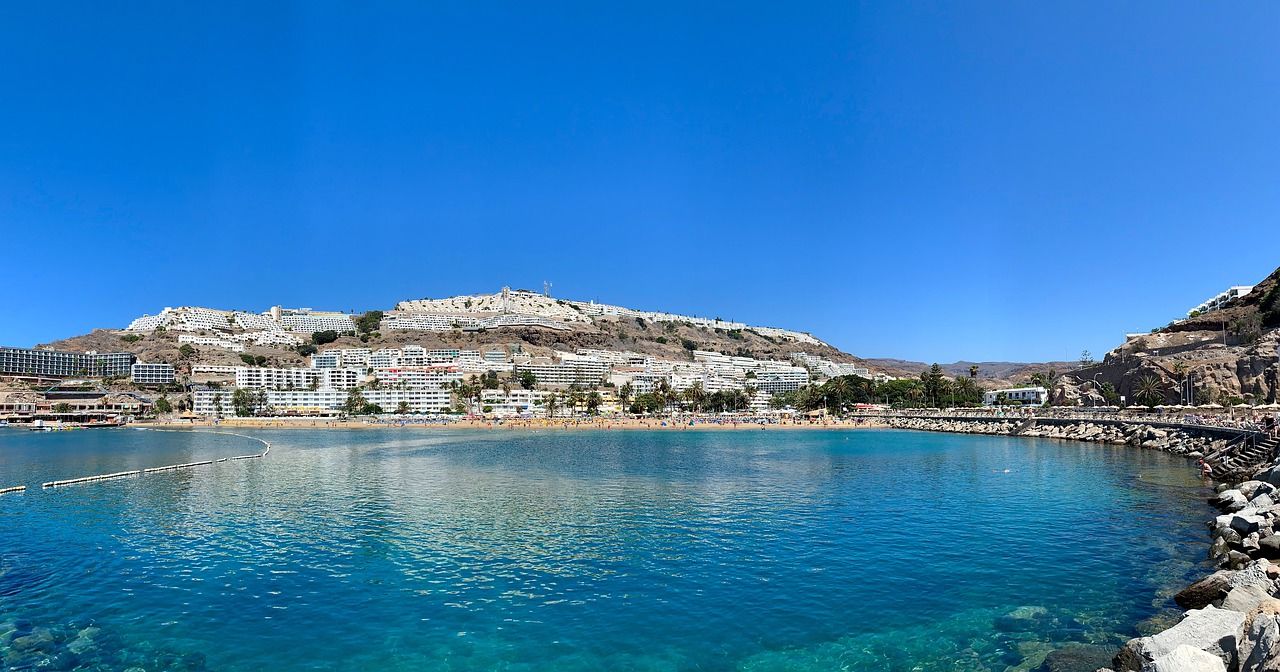 Anfi del Mar
Located in the south-west of Gran Canaria, the beach should become your number one spot on the island. Palm trees and floral displays, along with the tranquil, turquoise waters are usually perceived as the main advantages of this place. Furthermore, it is close to various cafes and restaurants where you can enjoy traditional dishes.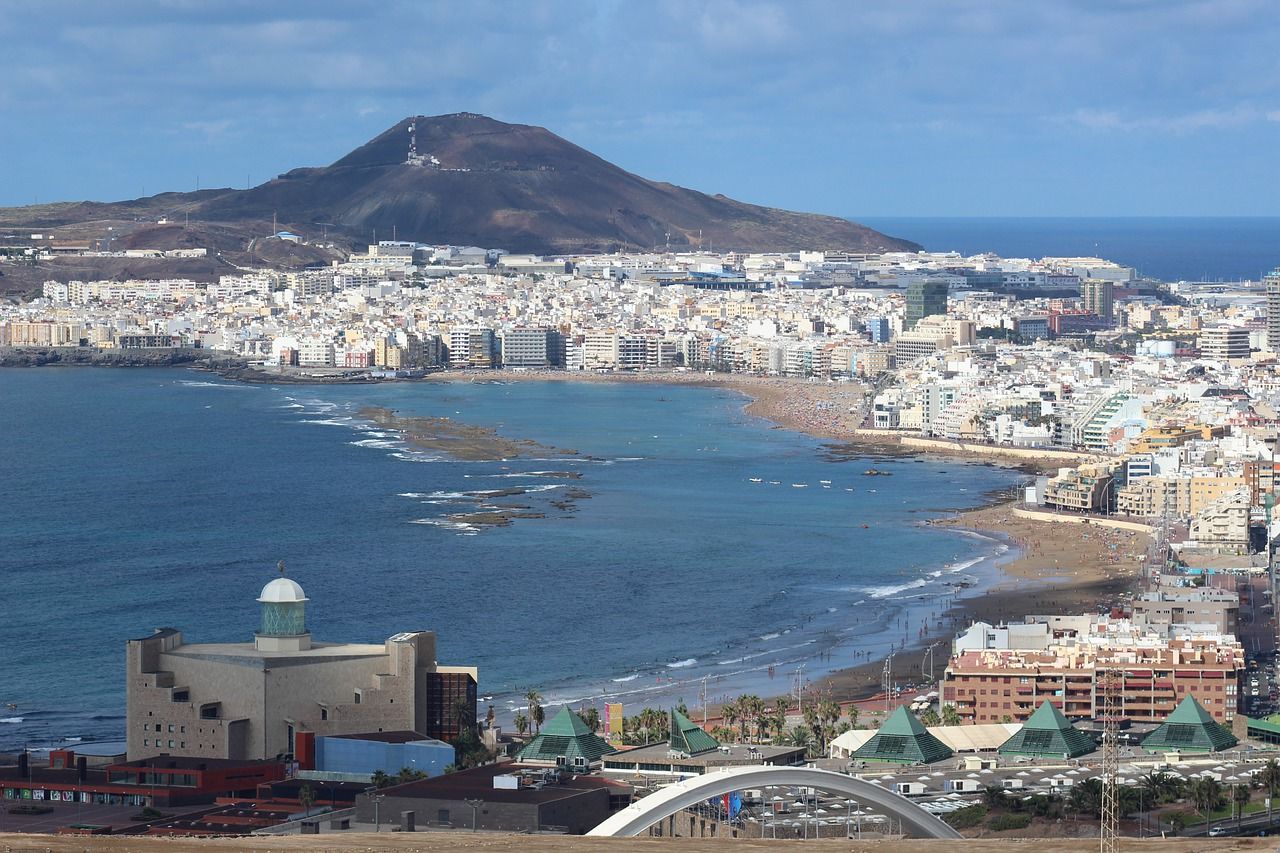 Las Canteras
Residents of the island describe this place as one of the nation's best urban beaches. Taking into consideration that this beach is a large marine life reserve, admirers of snorkeling tend to come here from the entire island. It is recommended to come here with families, as the beach offers opportunities for people of different ages and interests.
San Agustin
This beach stretches for over 600 m long, thereby serving the function of one of the largest beaches in the resort.
In addition to clear waters accompanied by soft, golden sand, it is famous for a developed infrastructure that is represented through numerous hotels, restaurants, bars, and cafes.
Gui Gui
Are you looking for a remote beach? Pay attention to Gui Gui that can be inaccessible sometimes. In fact, it is difficult to reach this destination, as it is hidden by nature. Therefore, it is advised to rent a car in order to get to Gui Gui. Once you achieve this beach, you will be able to enjoy the sound of water and the smell of the wind without crowds of tourists.
Attractions And Activities
Today, Gran Canaria has much more to offer beyond beaches. For instance, the combination of historical monuments and nature has become a magnet for international tourists.
Head to Playa del Ingles
This place is considered the island's party epicenter. Therefore, if your main goal of the trip to Gran Sardinia is to have fun, dance, and spend time with friends, it is the place where you can do it to the fullest extent. Moreover, Playa del Ingles is widely known as the destination of gay tourism. Anyways, it is here that you can find numerous nightclubs, restaurants, and bars.
Go On A Boat Trip To See Dolphins
Taking into consideration that you relax on the island, joining a boat trip should be a part of your vacation. This activity will offer you the opportunity to enjoy magnificent views of the island while drinking a glass of iced lemonade or champagne. In turn, if you are lucky, you can see the dolphins in their natural habitat.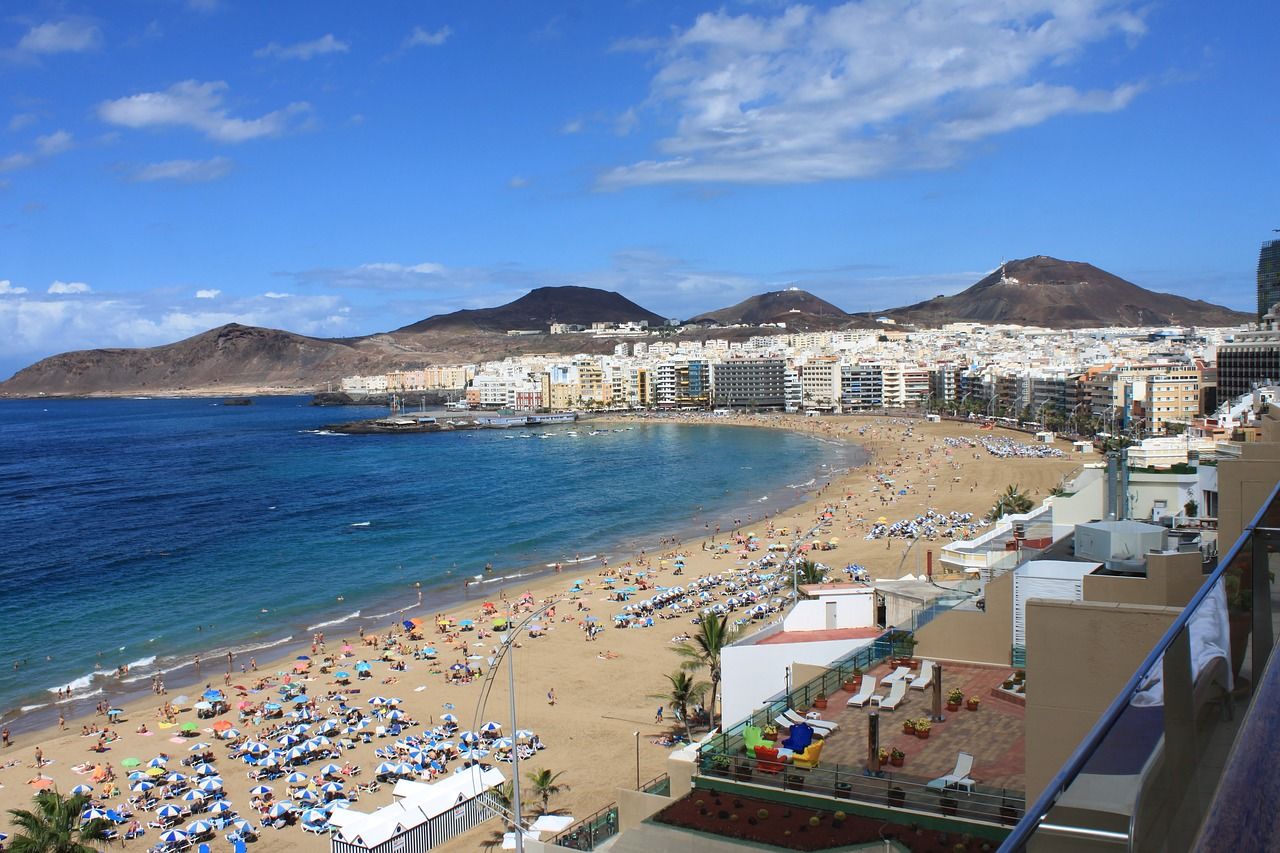 Visit Las Palmas
As the capital of the island, it is the place that should be definitely visited by tourists. Once you arrive there, pay attention to Catedral de Santa Ana, Teatro Pérez Galdós, and the Canarian Museum. Besides, you can combine sightseeing with relaxing on the beach and having dinner in one of the local cafes.
Find Poema del Mar
If you travel with children, you should consider this attraction as a part of the vacation on the island.
In fact, it is a great aquarium where you can see numerous species of marine life. By the way, entry is free for children under 4 years old.
Visit Masmalopas Dunes
It is the main symbol of the island, which creates an impression as if you are located in the middle of the desert. At the same time, you always have access to the best hotels and restaurants nearby. Also, you can head to the local beach after visiting this attraction.
Best Ways To Get To Gran Canaria
People have the opportunity to reach this place either by flying or using ferry services. Nowadays, Gran Canaria has an international airport situated 18 km south of Las Palmas (the capital of the island). EasyJet, Ryanair, British Airways, and Iberia have frequent daily flights to the island from different regions of Europe.
You can also get to the island with the help of ferry services that are usually represented by major cruise liners, such as P&O and Royal Caribbean. Ferry services are provided to tourists who aim to reach Gran Canaria from mainland Spain and the other Canary Islands. At the same time, some people tend to combine flying and ferry services, as this kind of transportation offers the opportunity to enjoy magnificent views of different islands as well as Spain itself.
Transport
It is a well-known fact that car rental is the best way to explore the island from different sides. Nowadays, the average price for this kind of service is nearly $15 per day, which is not much. You can also use taxi services on the territory of the island.
Simultaneously, if you prefer public transport, you can take into consideration 2 companies that provide bus services on Gran Canaria (Global and Guaguas Municipales). Global provides services on the territory of the whole island, whereas the second company mainly operates in the capital. In turn, the majority of buses are equipped with air conditioning systems that improve the quality of provided services.
Accommodations And Hotels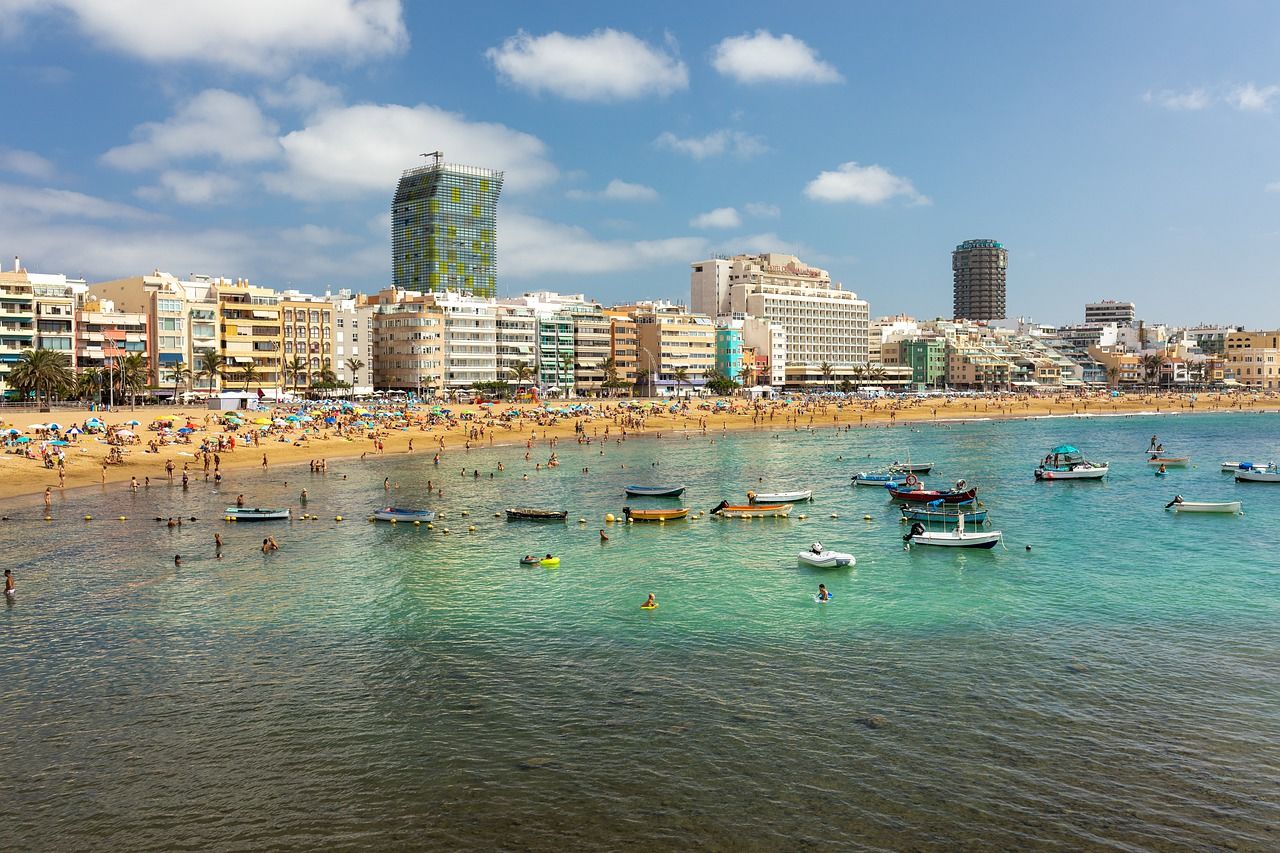 The island has a variety of hotels that can meet the needs of the most demanding tourists. Therefore, you can be sure you will be able to find a place to stay according to your personal preferences.
● Located at the heart of a palm grove, Grand Hotel Residencia attracts tourists with its stunning bar, lounge, pool, and veranda areas. By the way, this hotel was visited by numerous media personalities, including Bruce Springsteen and Mary Berry.
● As a part of the famous hotel chain, Radisson Blu Hotel provides the highest quality services and impresses with its infrastructure.
● Situated in Playa del Ingles, Bohemia Suites & Spa serves the function of a 5-star hotel. Despite its location in the middle of the resort dedicated to admirers of nightclubs, the hotel is regarded as an elegant place for business tourists and tourists with children.
● Hotel Cordial Mogán Playa is a 4-star hotel that is famous for its swimming pool, fitness center, spa, and private beach.
● If you want to increase the level of awareness of the history of Gran Canaria, take into account Parador de Cruz de Tejeda.
With HotelFriend, you can always find and book the best hotel rooms and deals in Gran Canaria.